Testingfg of Ads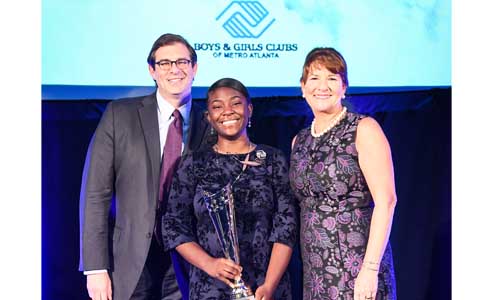 The Boys & Girls Clubs of Metro Atlanta (BGCMA) has named Kimberly Heard, a member of the A.R. "Gus" Barksdale Boys & Girls Club, as the 2019-2020 "Youth of the Year.
The prestigious award is BGCMA's highest honor recognizing teens from Clubs in the metro Atlanta area who are working hard, investing in themselves, and demonstrating leadership in their schools, Clubs, and communities.
On Nov. 8, BGCMA welcomed 21 Youth of the Year nominees and nearly 600 attendees including local politicians, business leaders, and advocates, to the annual Youth of the Year Fundraising Gala presented by Bank of America. The event was held at Atlanta's Delta Flight Museum.  Attendees heard speeches about where these young leaders started, how their Clubs helped shape who they are today, and their big dreams they have for the future.
"Thank you to all of our partners who make these programs possible," said Missy Dugan, president & CEO of Boys & Girls Clubs of Metro Atlanta. "Through our shared vision, we are building an educated workforce, a healthy and active community, and a city full of young leaders like Kimberly."
As Youth of the Year, Heard was awarded a $2,500 college scholarship, and in the spring of 2020, she will represent Metro Atlanta as Youth of the Year at the statewide competition.
"I would like to say thank you to everyone who supported me," said Heard. "I'm going to do my best to represent Boys & Girls Clubs of Metro Atlanta in a positive way. I'm really excited about the possibilities."
Top honors also were awarded to Gwinnett County's A. Worley Brown Boys & Girls Club member Brian Ariza-Pinzon, first runner-up and recipient of a $1,500 scholarship. Alonah Watson, member of the Michael A. Grant Boys & Girls Club in Cobb County, received the Ada Lee Correll Community Spirit Award. Along with this recognition, she also received a $1,000scholarship. Carroll County Boys & Girls Club member Harry Jacob Nelson III, BGCMA's first Youth of the Year candidate with autism, received the Trailblazer Award for his demonstration of courage and perseverance.
BGCMA serves nearly 3,000 children and teens each year. Youth of the Year is a year-round character and leadership program that recognizes Club members who demonstrate academic achievement, leadership skills, and service to their community. BGCMA also focuses on helping youth succeed in college and career, and live healthy. By 2020, the organization is working to ensure that 90 percent of the youth it serves are graduating on time, living healthy, and giving back.
BGCMA thanks Bank of America, presenting sponsor of the Youth of the Year gala, and all of its corporate and individual sponsors for opening doors for our youth.
"Bank of America's investment in youth is essential for future success, and we are proud to serve as presenting sponsor of the prestigious Youth of the Year program," said Aron Levine, head of Consumer Banking and Investments, Bank of America, and Executive Board Member of Boys & Girls Clubs of MetroAtlanta. "This is my eighth year of involvement with BGCMA's Youth of the Year Fundraising Gala, and the impact these members are making in their communities is truly an inspiration."