Testingfg of Ads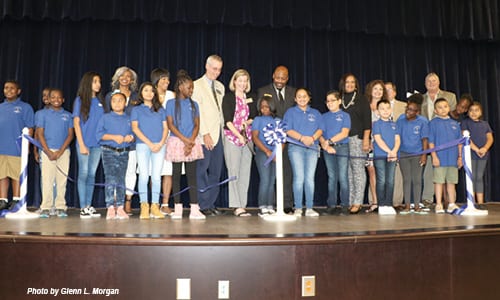 Rockdale County Public Schools' officials held a dedication and ribbon cutting ceremony on July 24 for the historic Pine Street Elementary School at its new location, 500 Sigman Road. 
The two-story, 170,000-square-foot building replaces the former Pine Street Elementary, the oldest existing public school in Rockdale County.
Rockdale Schools Superintendent, Dr. Terry Oatts, Principal Kim Vier, along with Board of Education members Jim McBrayer, chairman, and Wales Barksdale, vice chair, led the dedication celebration.
 The 60-year-old elementary school, which opened in 1957 at 1300 Pine Log Road in Conyers, School is being repurposed for administrative offices. 
The school, which will serve 900 students, was designed by the architectural firm of Smallwood, Reynolds, Stewart, Stewart & Associations and built by Carroll Daniel Construction.   
Rockdale students return to school on July 30. https://pse.rockdaleschools.org/