Testingfg of Ads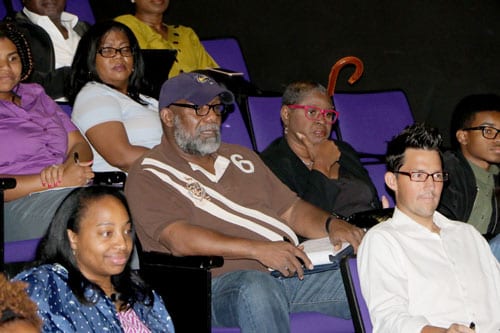 Officials said about 70 people attended the recent film workshop hosted by Rockdale County government, Conyers Rockdale Council for the Arts and the Conyers Rockdale Economic Development Council Film Office.
The June 24 workshop brought together professionals, officials and those who were interested in opportunities available in Georgia's film industry.
Rockdale Board of Commissioners Chairman Oz Nesbitt, Sr. praised the collaborative effort, saying the workshop was a way to connect community residents with resources and opportunities. Topics ran the gamut—from how to put together acting portfolios to how to become vendors, Nesbitt said.
"Often times, you see the film crews in Rockdale. So we wanted to talk about how you can get involved in the film industry—whether you want to be an extra on the set or a vendor who supplies catering, security and other support," said Nesbitt.
One woman talked about how she had the opportunity to rent out her house when a film crew came to town.
The workshop drew people from not only Rockdale but from neighboring counties.
Stonecrest City Councilman Rob Turner, who attended the workshop on behalf of the newly-formed city, said the presenters provided a wealth of information about the economic impact of Georgia's growing film industry.
"The workshop was very timely and shared vital information that will help make Stonecrest camera-ready (setting up fee structures and production costs) for television and film production," said Turner, who heads the City of Stonecrest's TV and Film Commission. "My vision for our television and film commission is two-fold: The first is to ensure that Stonecrest will be a recipient of this economic infusion through permits, fees, production costs, rentals, etc. that will strengthen our economic infrastructure; and the second is to give our city international visibility through projects that will be produced here."
Turner said he is looking forward to collaborating with DeKalb and Rockdale counties' film commissions.
"The film and television industry has generated over $7 billion to Georgia's economy and I'm excited about Stonecrest benefiting from this explosive financial growth.  This is a part of the new culture for our city," said Turner.