Testingfg of Ads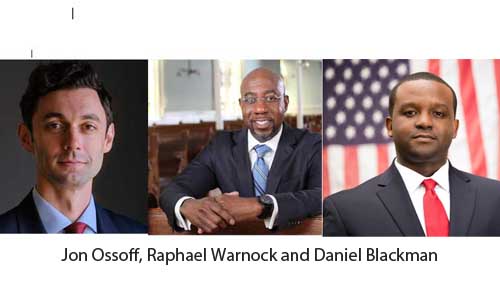 The Rockdale County and Newton County Democratic Parties will host the "Race to the Senate 2021" campaign rally on Saturday, Dec. 5, 1 to 3 p.m., at 1400 Parker Road in Conyers.
The rally aims to energize and encourage voters living along the I-20 corridor and throughout Georgia to cast ballots for U.S. Senate candidates Jon Ossoff and the Rev. Raphael Warnock, and Public Service Commission District 4 candidate Daniel Blackman in the general runoff election set for Jan. 5.
"The long road of Georgia being red for over 30 years is now broken. It is time we take our seat and lead as the Blue state that fights the hardest and takes the lead," said Rockdale Democratic Party Chair Cheryl Board. "We honor our part in the fight to help these candidates take their rightful seats."
With the election just weeks away, ensuring voters return to the polls is a top priority. In the Senate races, the eyes of the nation are on Georgia. Wins for Ossoff and Warnock give Democrats control of the Senate. In the only race for a state position left undecided after the Nov. 2 election, a win for Blackman will be the first for a Democrat running for statewide office since 2006.
"We are extremely excited to be able to host all three candidates up for election in January. The road for a fair and free democracy has always gone through Georgia- and we intend to show the rest of the nation how hard we are willing to fight," said Newton County Democratic Party Chair Ryan Barrett.
The rally, which will be held in-person as a drive-in rally and virtually on Zoom, is open to the public and registration is encouraged. In person, social distancing guidelines will be enforced and masks are required. Those without masks will be asked to remain in their cars. Virtually, sign in using the following credentials: Meeting ID: 878 8224 2068 Passcode: 544414.
To register, visit https://www.mobilize.us/electjon/ and click on Drive In Rally Hosted by the Rockdale and Newton County Dems, or for more information, contact Board at 678-463-7725 or Barrett at 678- 215-7755.