Testingfg of Ads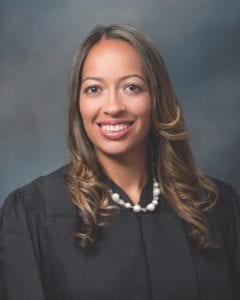 Rockdale County's Juvenile Court Judge Maureen Wood took the reigns on Monday, filling a position formerly held by long-time Judge William Schneider.
Wood was sworn into office on Sept. 30 by Chief Judge David Irwin, who appointed her to the four-year position. Wood is Rockdale's first African American to hold the seat. She is also believed to be the first female ever appointed as a Rockdale Juvenile Court judge.
"I am looking forward to serving in my new position. I'm still getting acclimated but I would like to encourage more community members to consider becoming mentors for the mentoring program for youths. We also are seeing a need for foster families within Rockdale County. Oftentimes, our children in foster care are placed all over the state," said Wood.
Wood, who completed her undergraduate work at Spelman College in Atlanta, earned her law degree from University of Tennessee. She grew up in Murfreesboro, Tennessee.
Wood met her husband, David, met while she was at Spelman and he was attending Morehouse College. He is also an attorney.
Before Judge Wood's appointment to the Juvenile Court, she and her husband ran a law practice together that they had operated since 2006 in Rockdale.
The Newrock Legal Society held a welcome reception for Judge Wood on Oct. 5 in Conyers. Attorney Tami Wells Thomas, who serves as president of the organization, said it was important for the group to welcome Wood to the bench and give community residents the chance to meet her and welcome her to her new role.
"She is a founding member of the Newrock Legal Society. She has been very active with the organization, working on a number of community issues as well as serving on the executive board," Thomas said. "We wanted to show our support for her personally and professionally."
The Newrock Legal Society emphasizes educating lawyers and community members on the law to ensure justice is administered fairly.
Attorney Sherri Washington, who is president-elect of the Newrock Legal Society, said she, too, felt it was important for the organization to show its support for Judge Wood.
"Her appointment is historic and we wanted to show our support for her," said Washington. "We wanted to let her know that the Newrock Legal Society is here as a family to support her in all of her endeavors."
Rockdale County's Juvenile Court has jurisdiction over all children under 17 who are alleged to be:
Deprived (abused, neglected, abandoned, molested, etc.)
Delinquent (ages 7 to 16 depending on child's maturity)
Unruly, runaway, truant, ungovernable or beyond parental control
Commit a moving traffic violation.
Wood is a member of Alpha Kappa Alpha Sorority. She is also a member of the child welfare law section of the State Bar, the Rockdale Bar Association, National Association of Council for Children and the Georgia Association of Council for Children. She and her husband have three daughters.