Testingfg of Ads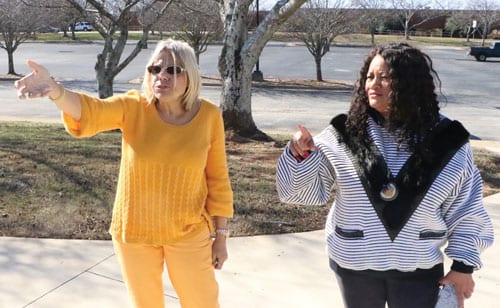 Organizers in Rockdale County have reached a compromise concerning a celebration planned for the Martin Luther King, Jr. national holiday.
Josie Dean, who is spearheading the planning committee, had envisioned a daylong event that included a parade in Olde Town Conyers with Rockdale's newly-elected Chairman Oz Nesbitt serving as the grand marshal, speeches and other activities. Dean didn't anticipate the bureaucratic redtape she said she encountered from city and county officials who told her several off-duty police officers would be needed and even more planning to get them in place and pay them. Dean called a news conference to discuss the pushback and remind everyone Rockdale County not too long ago was where the KKK had planned a march in Olde Town Conyers.
But now, there is peace in Rockdale again. Dean and her committee members, civil rights friends from DeKalb County, law enforcement and city and county officials have worked through their differences and are looking forward to the community coming together for this year's new MLK celebration.
The group plans to host a scaled down version of a parade with local school bands and others outside of the county's government annex at 1400 Parker Road on the King Holiday.
The noon celebration will follow the annual 7:30 a.m. breakfast that the Rockdale NAACP and the Conyers-Rockdale Chamber of Commerce hosts at Longhorn Steakhouse, an event that is in its 14th year.
"We will start planning for our first MLK parade very early," said Dean. "There won't be any excuses for next year."
John Evans, who oversees Operation LEAD based in DeKalb County, said he sat in on the meetings and believes the compromise for this year's event is a good one.
"Everybody said what they had to say and offered what they had to offer. We worked it out," said Evans.
Rockdale Chairman Nesbitt said he is looking forward to this year's rally.
"We believe the rally is a good compromise," said Nesbitt, who will march as the grand marshal and give a speech. "We will still be honoring Dr. King and everybody is working to help make the event a success. There are a volunteers" Nesbitt.
Cheryl Board, who is helping organize volunteers for the event, said she is excited about the new plans.
"Although it's gone through some changes, it's going to be an awesome day," said Board.