Testingfg of Ads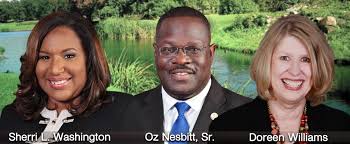 The Rockdale County Board of Commissioners is seeking the public's input on ways to improve the quality of life in the county.
Recently, the board appointed members to the Rockdale County Strategic Plan Taskforce, a team charged with collecting citizen input through a survey to improve the Rockdale community. The survey went live on the county's website (rockdalecountyga.gov) on May 1 and will be available through June 20.
The survey asks citizens and stakeholders to give feedback in the following subject areas: Public Safety, Economic Development, Quality of Life, Transportation/ Infrastructure, Education/ Workforce Development, and Transparency.
"We need to be proactive in establishing the County's plans for the future. The citizens have every right to be put first in this process," Rockdale Board of Commissioners (BOC) Chairman Oz Nesbitt said. "This survey gives every resident of Rockdale County the opportunity to voice their opinion regarding the vision of where they work, live, and play."
Strategic Plan Taskforce members and county ambassadors will promote the survey at the following upcoming events:
Taste of Conyers – May 4
E-Recycling & Paper Shredding – May 11
BOC on the Road Meeting at Honey Creek Elementary School – May 21
P.A.R.C. Rockdale 2019 – May 23
Costly Mill Park Beach Opening Day – May 25
Dog Park grand opening, Richardson Park – June 1
2019 Rockdale Employment Summit – June 7
BOC on the Road Meeting at Barksdale Elementary School– June 18
In addition to appearances at community events, theBOC will make presentations at town hall meetings across Rockdale, sharing the importance of the strategic survey and how the community can take part. The dates for the town hall meetings follow:
Thursday, May 9, 6 p.m., Commissioner Sherri L. Washington, Post 1, Hightower Trail Elementary, 2510 GA-138, Conyers
Thursday, May 16, 6 p.m., Commissioner Doreen Williams, Post 2,
Fire Station 2, 778 Bell Road, Conyers
Thursday, May 23, 6 p.m., BOC Chairman Oz Nesbitt, Sr., Rockdale County Auditorium, 903 Main Street, Conyers
Thursday, June 20, 6 p.m., Strategic Plan Town Hall Finale, J.P. Carr Community Room, 981 Taylor Street, Conyers
The events are open to the public and the public is encouraged to attend.
For more information, contact Chantall Hunt, Talent Management office, at 770-278-7578 or chantall.hunt@rockdalecountyga.gov.