Testingfg of Ads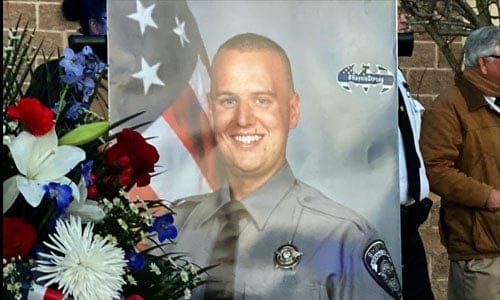 "He was our SWAT brother, a great friend. There's not one day that he didn't enter this building and didn't have a smile on his face."
"He meant a lot to a lot of people."
"I've never met somebody like Cole before who had so much integrity, the most honesty of anybody in my 20 years of law enforcement…"
Rockdale Sheriff's Investigator John Cole "J.C." Haynie was remembered with tears and laughter this evening during a candlelight vigil held by a crowd of colleagues, family and friends outside the Sheriff's Office headquarters. Several who worked with Haynie shared stories about their friendship, his professionalism, and some of the last text messages that they exchanged with him.
Investigator Haynie passed away on Saturday (Jan. 25). after a courageous, month-long medical battle, the Sheriff Office said in a statement.
An 8-year veteran with the Rockdale County Sheriff's Office, Investigator Haynie began his service on Jan. 3, 2012 as a detention deputy within the Jail Division. He was promoted to a certified Sheriff's deputy on March 21, 2014 after successful completion of the Georgia Peace Officer Standards and Training Council (P.O.S.T.) mandate academy.
Investigator Haynie served in the Uniform Patrol Division for five years, first as a patrol deputy and later as a Special Investigations Unit gang investigator. He was most recently transferred to the Judicial Services Division in 2019, where he served as a fugitive investigator.
The public viewing for Investigator Haynie will be held on Thursday (Jan.30) from 6 to 7 p.m., at First Baptist Church, 2100 Georgia Highway 138 N.E., Conyers.
A viewing also will be held on Friday (Jan. 31), 11 a.m. until noon. The funeral will begin at the church at 1 p.m.
Video: https://youtu.be/rfWV1GWBPQ8