Testingfg of Ads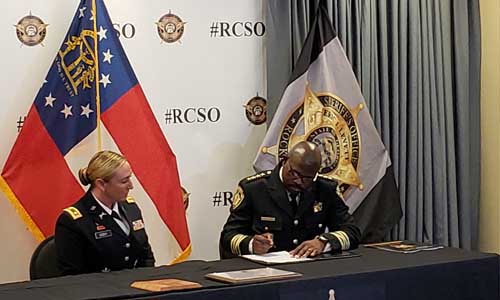 On Sept. 10, Rockdale County Sheriff Eric J. Levett signed a memorandum of agreement with the U.S. Army's Partnership for Youth Success, or PaYS.
The PaYS program is a strategic partnership between the Army and a cross-section of private industry, academia and state and local public institutes. The U.S. Army PaYS program guarantees soldiers at least two job interview and possible employment after completing reserve training or their first term of service.  The PaYS program provides America's youths with the unique opportunity to simultaneously serve their country and prepare for their future.
The PaYS program helps soldiers prepare for a career after the Army by connecting them with employers who understand the skills, discipline and work ethic that military service members bring to a business.  The program is part of a long-term U.S. Army effort to help soldiers forge professional relationships with businesses and encourage business owners to look to the Army as a plentiful and reliable recruiting source.
Since PaYS began in 2000, more than 841 employers have partnered with the program.
"I was excited about the opportunity to work alongside the Atlanta United States Army Recruiting Battalion and our local ROTC programs in an initiatives that allows the Rockdale County Sheriff's Office to extend the message to our community youth to stay in school, start setting goals, making good choices in life and friends, and staying off drugs," Levett said. "My agency currently employs several Veterans from all the branches of services.  I am proud of all our veterans and the service they gave to our country and more so their choice to continue to be a public servant by joining our agency and serving and protecting their community after leaving military service."