Testingfg of Ads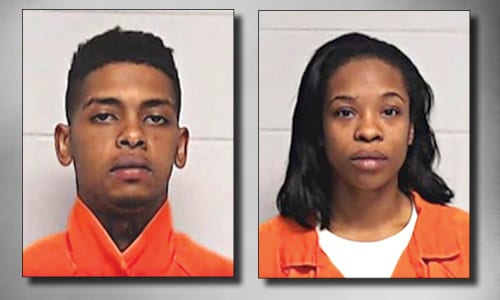 Two people were arrested recently after the Rockdale County Sheriff's Office Special Investigations Unit and SWAT team seized drugs, guns and nearly $2,000 in counterfeit money from a duplex in Conyers.
Lewis Jabari Jones, 29, and Charity McCullar, 26, were arrested on several charges during the May 4 drug bust at 2600-B Golfview Terrace located. Jones had been under surveillance for a while before investigators moved in.  
Investigators conducted a search warrant where they confiscated 16.1 grams of heroin, schedule 4 narcotics, $1,900 in counterfeit money, 2,237.1 grams of edibles (which contain THC oil), 3.6 grams of cocaine, 307.2 grams of marijuana, and 8 guns ranging from handguns to assault rifles. 
Jones and McCullar were both charged with possession of weapons during the commission of a crime; possession of marijuana with the intent to distribute; possession of cocaine with intent to distribute; Possession of a controlled substance (edibles; Forgery in the 2nd degree; Trafficking heroin; and Possession of a schedule 4 controlled substance. Both were taken to the Rockdale County Jail.