Testingfg of Ads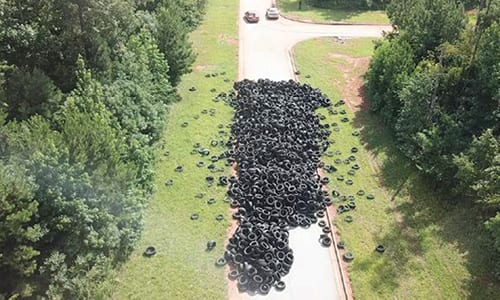 By Valerie J. Morgan
A two-mile trail of tires and a muddy shoe print led Rockdale County authorities to the suspect who illegally dumped over 100 tires.
The Rockdale Sheriff's Office arrested Zavien Corell Sims, a 17-year-old from Conley, and charged him with illegally dumping 107 tires. Lt. Corporal Robert Wilson said the tires were dumped from the entrance lane of 7th Century Row near McDaniel Mill Road to Klondike Road at Stonebridge Trail. 
Wilson was traveling north on McDaniel Mill Road around 6 a.m. on July 12 when he observed a large U-Haul truck stopped in the exit lane of 7th Century Row. Tires had been dumped in the lane.    
The U-Haul was unoccupied and the rear area was loaded half way with used tires, investigators said. Wilson spotted a man walking on McDaniel Mill Road who had tire marks on his shirt, mud on his shoes and black residue on the palms of his hands. One of the investigators on the scene located a muddy shoe print in the asphalt that matched the shoes Sims was wearing. 
Sims was arrested. He is facing felony charges for unlawful dumping for commercial purposes. He also was wanted on a warrant from another jurisdiction. 
The Sheriff's Office worked with Rockdale's Code Enforcement officers to have the tires removed. Investigators are trying to determine who hired Sims.  
"Corporal Wilson continues to perform above and beyond my expectations. Violations like this one can be very expensive to those who dump trash or liter in our county. I take pride in our community and have zero tolerance for this type of offense," Sheriff Eric J. Levett said.
Rockdale Board of Commissioners Chairman Oz Nesbitt praised the efforts of the Sheriff's Office, Code Enforcement, Department of Transportation and Community Improvement Team during his comments at the July 24 BOC meeting. Nesbitt said all of the agencies worked together to clean up the dumped tires. 
"I really do appreciate the team work to be able to respond very quickly," said Nesbitt, who said the dumped tires were a "sight to see."