Testingfg of Ads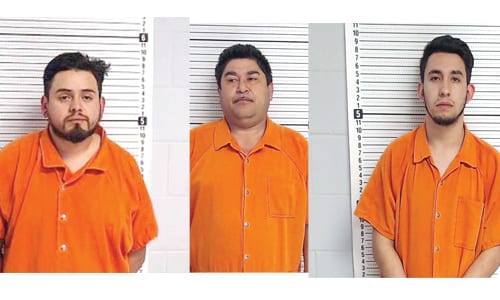 Victor Gomez-Perez         Miguel Angel Ruiz-Serma      Jorge Alberto Vargas
The Rockdale County Sheriff's Office Surge team, along with state and local agencies, have made three major drug busts over the last three weeks, seizing over $3.5 million in cocaine and heroin.
The most recent seizures and arrests were made on Nov. 1 when a search warrant was executed by the team and DEA agents at a residence on Georgia Highway 212. Five kilos of cocaine valued at $250,000 was seized. Agents also confiscated $67,000 in cash and two handguns.
Jorge Vargas, 21, and Miguel Angel Ruiz-Serma, 43, both of Conyers were arrested and are now facing charges of trafficking cocaine. Vargas is facing additional charges of obstruction of officers.
Agents also made a major bust on Oct. 28 during a traffic stop on I-20 westbound between West Avenue and Sigman Road. Investigators seized 38 packages containing 97.96 pounds of cocaine. Investigators said the estimated street value was worth $2 million.Victor Gomez-Perez was arrested during the stop. Perez was charged with trafficking cocaine and transported to the Rockdale County Jail.
"This seizure is proof that this Surge Team is following my vision of continuing to rid this county of criminals, especially those who attempt to bring drugs in," said Sheriff Eric Levett. "I am a crime-fighter and I made a promise to my citizens to keep Rockdale safe. Criminals are not welcome in Rockdale and we will catch them."
The first bust occurred on Oct. 18. Ten pounds of heroin valued at more than $1.5 million were seized and two men were arrested in the Wal-Mart parking lot in Conyers.