Testingfg of Ads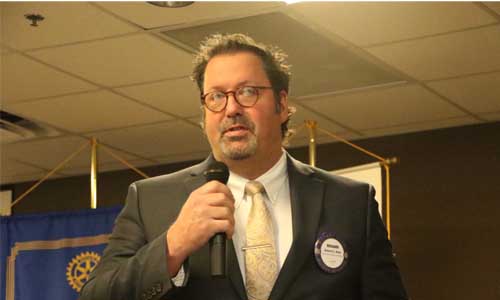 Rockdale County Schools Superintendent Richard Autry has announced his retirement three days after he was arrested for driving drunk.
Autry, 53, was arrested on Sept. 24 in McDonough and charged with DUI and following too closely. McDonough Police said Autry had a blood alcohol level of .195. That level is more than twice the legal limit.
Police found Autry after responding to an accident in the area of Georgia Highway 155 South and Henry Parkway, according to media reports. At the scene, Autry told police he wasn't injured but police noticed he was impaired and leaning on a gas pump at the Sunoco gas station where his vehicle had come to rest. Police said Autry's speech was slurred and after conducting a sobriety test and breathalyzer test, both of which Autry failed, they arrested him.
Autry told police that he had been drinking beer at a Buffalo Wild Wings in McDonough while watching the Atlanta Falcons game.
After a special called executive session concerning personnel matters on Sept. 27, Autry said he would retire effective Oct. 30. He issued the following statement:
"Although this was not an easy decision, I must put my family and personal circumstances first at this time. It has been my distinct pleasure to serve this community as a teacher, coach, principal, chief academic officer and for the past six years, your superintendent. I have full confidence that Rockdale County Public Schools will continue to strive for world-class and provide all students with a quality public education."
Board of Education Chairman Jim McBrayer said in a statement:
"We wish Mr. Autry the best with his retirement. We appreciate all that he has done for the children and families of Rockdale County over the years, but especially during his tenure as superintendent. His leadership brought many innovative programs and offerings to our students and families such as the school specialty and choice programs and advanced technology tools, including individual devices for students. In addition, his unwavering commitment to student success allowed RCPS to continue to see improvements in student achievement. We will certainly miss him, but as a retired person myself, I can also share his excitement to begin a new chapter in his life."
Autry became superintendent on July 1, 2012, succeeding Samuel King, who left Rockdale to become superintendent of Norfolk Public Schools in Norfolk, Virginia. He had spent 30 years in education, 18 of them with Rockdale County Public Schools.
Autry has made an immeasurable difference in Rockdale schools. He led the district to become one of the highest rated AdvancEd internationally accredited systems in the state.
The district's most recent accreditation earned an overall score of 324 on the Index of Educational Quality (average score at the time was 282).
AdvancEd's Lead Evaluator, Dr. Mike Lodico, remarked: "You're going to be seen as one of the very highest rated districts because these are extremely high scores and ones that really are a tribute to the tremendous work that's being done in Rockdale County Schools."
Under Autry's leadership, student achievement has increased even as the number of economically disadvantaged students has risen. For example, in 2011-12, RCPS was 63% economically disadvantaged with a graduation rate of 72%. Today, RCPS is 72% economically disadvantaged with a cohort graduation rate of 84% compared to the state's average of 80.6%. The RCPS district CCRPI score remains above the State for the third consecutive year.
At press time on Sept. 28, no interim superintendent had been named.