Testingfg of Ads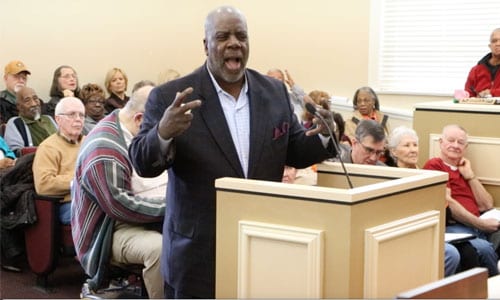 By Valerie J. Morgan
Rockdale County residents don't want anyone to tell them what to do with their trash.   A crowd of angry citizens turned out on Feb. 6 to protest a no bid contract that the Rockdale Board of Commissioners awarded to an Augusta firm to conduct a feasibility study that could lead to the company's takeover of garbage collection in Rockdale. Dozens of residents voiced opposition to the county's agreement with Greenhood Industries, saying they wanted to keep their private, local garbage haulers—not be forced to use a single, mandatory hauler picked by the county.
After hearing an earful during a meeting that lasted four hours, county officials are now considering if they will move forward with the Greenhood agreement.
"The chairman (Oz Nesbitt, Sr.) definitely heard the public's outcry. I'm not sure if the board will rescind its decision, but I would not be surprised if they did," said Jorge Diez, the county's director of public relations.
Diez said Nesbitt and the board would continue discussions and an announcement would be made regarding the county's next steps.
Nesbitt gave everyone who wanted to speak on the Greenhood contract the opportunity to do so at the meeting. More than 60 people came to the podium to comment.
Brian Jenkins perhaps best summed up the crowd's sentiments, drawing applause seven times as he spoke near the end of public comment period. Jenkins, who ran for BOC Chairman in 2012, called the board's decision "unconscionable," saying the board members should be concerned about the "vulnerable"—namely military veterans and the elderly living on fixed incomes who often struggle with keeping a roof over their heads and paying for their prescriptions.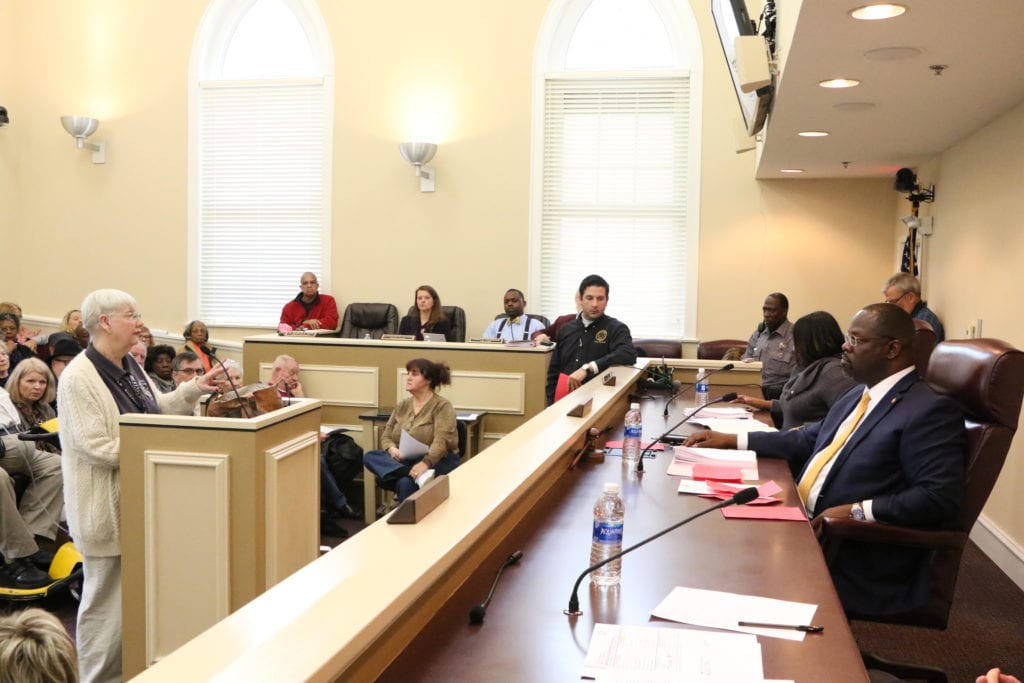 "Let's just keep this thing simple: We don't want it, simple as that," said Jenkins. "Don't spend any more money on consultants. We don't want it here in Rockdale County. Period."
Jenkins told the three members—Nesbitt and Commissioners Sherri Washington and Doreen Williams—that they were "negligent" in not calling for a referendum on the contract to allow taxpayers and homeowners to weigh in.
"It seems to me, you put the cart before the horse, as opposed to the horse before the cart. I think that had you done it the proper way, we wouldn't be where we are today. This backlash that you're experiencing is because you all failed. Period," Jenkins said.
Another speaker, John Bowers, told the board that he is extremely satisfied with the sanitation services he receives and like other residents, he values the freedom to decide who provides those services. He blasted the board for making its decision with no prior discussion and information to residents.
"We value individual freedom and personal choice. We are incensed that this Board of Commissioners has initiated a contract whose ultimate goal is to eliminate individual freedom and choice by monopolizing residential waste management services," Bowers said.
Neighboring DeKalb County runs its own garbage pickup services. Rockdale, however, has never had a county-run sanitation program.
Many of those who attended the meeting were seniors, some in wheelchairs, some with medical devices and canes. They brought copies of information circulating on social media and through e-mails about Greenhood Industries' professional services contract. The company proposed developing a comprehensive sanitation plan that would include collection of household grease to be sold for fuel; a recycling program for other waste; and county-wide curbside trash pickup. The board approved the contract on Jan. 23.
Corey Hambrick, Rockdale's chief of staff, said the discussion on Greenhood was held to bring clarity and to dispel "notions of government corruption." Rumors have been circulating that BOC Chairman Oz Nesbitt, Sr., who is from Augusta, members of his staff and others stand to gain financially from the Greenhood contract.
Corey Hambrick, Rockdale's chief of staff, said the discussion on Greenhood was held to bring clarity and to dispel "notions of government corruption." Rumors have been circulating that BOC Chairman Oz Nesbitt, Sr., who is from Augusta, members of his staff and others stand to gain financially from the Greenhood contract.
Hambrick said he put together a presentation to "debunk" the "falsehoods" that were circulating on Facebook. Hambrick shared one of the Facebook posts, saying that the county chose not to engage in a social media battle but to address the issue in a public forum such as the meeting held where facts could be presented. Although he blurred out the name of the individual (Thomas Chastain) during his presentation, he shared the following post, denouncing the comments as political propaganda:
"ROCKDALE COUNTY RESIDENTS- PLEASE SHARE!! It Looks like there is Government Corruption in our county and here is proof!! Chairman Oz Nesbitt has pushed a Mandatory trash collection on our community. Not only did he do this without a bidding process, He also gave the contract to a company in which he is friends with leaders of and are from his home town of Augusta. One of the leaders is an ex-senator from Ga who is a Convicted Felon and served time for 127 counts of corruption, and the other is his son who has also had brushes with the law himself. AND To top it all off, this company (Greenhood) that is being granted millions of Rockdale taxpayer dollars is also just a Startup company with no reviews or qualifications to show that it is capable of taking on a contract that is this complex. The slideshow below documents some interactions with Chairman Oz Nesbitt and ex-Senator Charles Walker during different times of Nesbitt's last election cycle. It's obvious our Chairman made this deal to help his friends and possibly line his own pockets."
Commissioner Washington, who has taken the brunt of the public's criticism because she initiated discussions on having a comprehensive sanitation program, said during an interview with On Common Ground News that there is no corruption. She said she was simply looking for a solution to address citizens' concerns about dumping, litter, recycling and a way to combat the issues of household grease that is polluting Rockdale's water resources. Washington, who lives within the city limits of Conyers, which has one garbage hauler that handles garbage pickup and recycling, said she likes what the city offers and hoped to make the county better. Commissioner Williams, who also lives within the city limits of Conyers, supported Washington's idea, along with Chairman Nesbitt.
Washington said that she wanted to see Rockdale design a program that combines the desires of the citizens but provides a "cleaner, greener community." However, that doesn't necessarily mean Rockdale should have one garbage hauler, she said.
Washington also said she wanted to lay to rest the idea that she was seeking to increase garbage rates from $50 to $100 a month.
"There is no way that I would do that. My number one concern was designing something that was comparable to what citizens have and where we need to be in the future," Washington said.
Hambrick said the BOC voted to give the professional services contract to Greenhood and the action did not require that the contract go out for bid. The county's director of finances, Roselyn Miller, has the discretion to make a recommendation for the study, which did not have a cost associated with it in the planning stages. County Attorney M. Qader A. Baig agreed, saying this kind of professional services contract did not require a bid. Hambrick said there was no truth to the rumor that Greenhood received an $8 million contract or that residents would face an increase for sanitation services because no such deal is on the table.
"All of this was just misinformation," Hambrick said.
Photos by Glenn L. Morgan and Travis Hudgons
A crowd awaits outside the Assembly Hall, where the people spilled into the foyer of the building. The overflow crowd was sent to the Rockdale Auditorium, which has a balcony, to watch the meeting via live stream video. Over 60 citizens spoke during public comments, which lasted nearly four hours.