Testingfg of Ads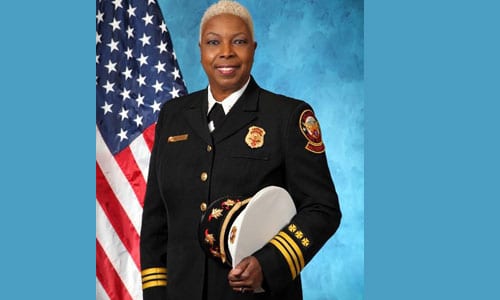 Marian McDaniel, a veteran who retired from the Atlanta Fire Rescue Department, has been named Rockdale County's Fire Rescue Department's new deputy fire chief of administration. The position, which hasn't been filled since the recession hit in 2009, is one that the Board of Commissioners decided to reinstate.
Fire Chief Dan Morgan and Chief Joel Yoder, deputy chief of operations, had been sharing the administration responsibilities after the county put the position on hold.
McDaniel began her duties on Oct. 2. She brings nearly two decades of knowledge in public safety and emergency service to Rockdale. Starting her career as a firefighter in 1998, McDaniel worked her way up the ranks, serving the Atlanta Fire Rescue Department as lieutenant, captain, section chief and retired recently as assistant fire chief.
McDaniel is involved in several community organizations including the Atlanta Emergency Preparedness Institute, Atlanta Citizen's Fire Academy, Atlanta Citizen's Emergency Response Team and she is an adjunct instructor for the New Schools of Carver Health Sciences and Research program.
McDaniel has a bachelor of science in Emergency Management and a master of science in Psychology with an emphasis in Industrial and Organizational Psychology from Grand Canyon University. She  is a nationally registered paramedic and a State of Georgia Peace Officer Standard and Training Council Certified Peace Officer.