Testingfg of Ads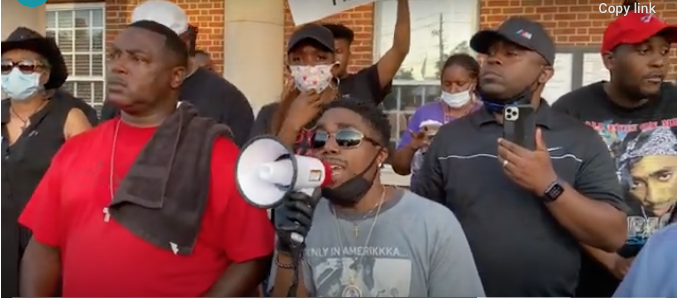 Photos & Video By Glenn L. Morgan
Rockdale rallies for George Floyd
Hundreds of protestors rallied in Rockdale County on June 2  for George Floyd, the unarmed black man who was killed by Minneapolis, Minnesota police as he begged for his life. Floyd's death on May 25 has touched off demonstrations across the country, some of them resulting into violence and looting.
The demonstration in Rockdale, however, was peaceful and well organized. The protesters were escorted by Conyers Police, who blocked off streets to ensure the demonstrators' safety. Several elected officials participated in the peaceful demonstration including Rockdale Chairman Oz Nesbitt, Commissioner Sherri Washington, Conyers Mayor Vince Evans, Conyers City Councilwoman Valyncia Smith and Sheriff Eric Levett.
Blacks and whites, young and old, marched from Wheeler Park on Parker Road to the Rockdale County Courthouse in Olde Town, where the crowd chanted and prayed together.  Volunteers passed out bottled water.  The demonstrators, many dressed in black to show solidarity, also were asked to kneel on one knee for nine minutes as a tribute to Floyd.
Derek Chauvin, the 44-year-old white officer charged with  Floyd's murder, kneeled on the back of Floyd's neck for 8 minutes and 46 seconds  as Floyd begged for his life, repeatedly telling the officer: "I can't breathe." A horrified crowd at the scene begged the police to free Floyd but none of the four officers at the scene intervened.  Video coverage of Floyd's death went viral, prompting protests across the U.S. for the eight consecutive day  from those who want justice for Floyd and other blacks who have died at the hands of police. No charges have been filed against the three other Minneapolis officers who were on the scene with Chauvin and helped to confine him on the ground.