Testingfg of Ads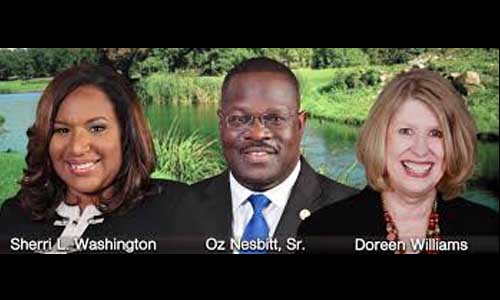 Finance Director Roselyn Miller on probation
Story Updated Aug. 31, 2020
Rockdale County government officials are scrambling to meet a Sept. 1 deadline to document the county's spending of $3.9 million in CARES Act funding.
The Rockdale Board of Commissioners had called for a special meeting today (Aug. 28) to discuss ways to spend the COVID-related funding, but adjourned the 2 p.m. tele-meeting early after the bombshell news from Attorney Michael Quinn, who is with the Association for County Commissioners of Georgia(ACCG) and assisting the county.
"Can someone tell me how much (CARES Act funding) has been uploaded in the portal for public safety?" Quinn implored.
None of the officials on the call said they had the information.
"Well, I'm not trying to be an alarmist, but you've got until Sept 1 to do it… I'm sorry if what you thought you were going to discuss in the meeting today has taken a different turn, but this is where we are," Quinn said.
Quinn said that he believed a large portion of the $3.9 million could be used for payroll, benefits and hazardous pay for law enforcement, firefighters and other essential public safety workers who have been serving on the frontlines during the pandemic since March 1.
It remains unclear, however, what happens if the county uses all of the $3.9 million for public safety. Quinn told the board he did not know if a second round of COVID-19 funding would be issued.
Quinn said the county received an advance of $1.1 million—30 percent—of the funding in July.  Washington said, however, the fact that the board only learned that information today was significant of a larger problem: communication. She said Finance Director Roselyn Miller never told the board that the county had the money in its coffers or the deadline the CARES Act funding had to be spent.
"We did not know the money was in and we certainly did not know we needed to spend all of the money by Sept. 1," said Washington.
""I had no idea. No one has communicated that to us," said Williams. "This was the first that I learned about any of it."
Board of Commissioners Chairman Oz Nesbitt did not comment.
Sheriff Eric Levett said his office has not been reimbursed for any of its COVID-related expenditures, including hazardous pay for deputies.  Levett told the board he learned his office should have received CARES Act funding from the Conyers Police Department.  Levett also said the finance director told him to use the salaries of the open positions in his office to fund the hazardous pay.
Miller has been placed on probation, according to an undisclosed source.
County spokesman Jorge Diaz said Miller is still serving in the capacity of finance director, but could not comment further.
Rockdale Commissioners Doreen Williams and Sherri Washington said they thought today's meeting would provide an opportunity to figure out how to spend the funding, including discussing Washington's proposal to provide county employees vouchers they could use for a childcare facility of their choice. The vouchers would replace Chairman Oz Nesbitt's proposed $297,000 contract with Positive Outcomes, Inc., the same company that ran the Chairman's summer enrichment program for 30 rising sixth-graders in 2019.
The proposed childcare program  for county workers was nixed last week after Williams and Washington raised concerns, saying the county's procurement process was not followed.
"This matter never came before the board for approval or ratification. There was no bid. We're not sure how the contractor was selected. And basically, the contract was structured with three payments. County policy states that no vendor can receive more than $100,000 in a single year for professional services," Washington said.
Positive Outcomes was slated to receive three equal payments of $98,854 from August to December 2020 totaling nearly $300,000.