Testingfg of Ads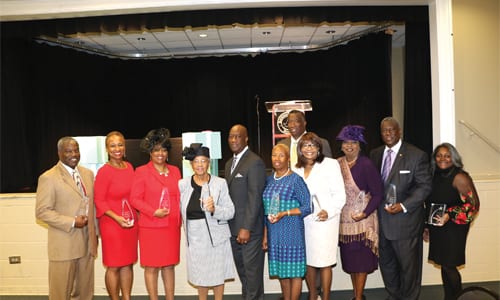 The Rockdale-Newton Section of the National Council of Negro Women (NCNW) and its president, Rhonda Taylor, honored 13 community trailblazers at the organization's Third Annual "The Lady Loved Her Hats" Celebration.
The event was held on Nov. 3 at the J.P. Carr Community Center in honor of the late Dorothy Heights, who served as the NCNW's president from 1957 to 1998, when she became Chair of the Board and President Emerita until her death in 2010. The notable civil rights and women's rights activist, who loved wearing matching hats with her outfits, received the Presidential Medal of Freedom in 1992 by President Bill Clinton and the Congressional Gold Medal in 2004 through an act of Congress.
In addition to Taylor, the Rockdale-Newton Section's 2017 luncheon committee included Stephanie Holloman-Curtis, chair; Evetta Washngton, program chair; Lynette Vick; Taci Perkins-Walker; Deborah Carter; Linda Evans; and Precious Sidwell.
The 2017 trailblazers who were honored at the luncheon are as follows:
Retired educator Zelma Stewart, who was recognized for dedicating her life to teaching children in Newton County; Eric Washington, who was recognized for volunteerism in advocating for the NCNW, financial inclusion, economic empowerment and financial dignity of the working poor; 
State Rep. Pam Dickerson, who is currently serving her fourth term representing District 113, which includes Rockdale and Newton counties; 
Kendra Williams Boone, who was lauded for her service on the boards of FaithWorks, Covington Kiwanis and the Arts Association of Newton County; Tolbert and Janice Morris, whose Helping Hands Outreach Clinic has served the community since 2004; Meik Lee, who works for the Newton County School System where she's been employed for over 15 years with the Pre-K Special Needs and the mentally impaired population in Newton County Schools and is the wife of Pastor Eric Lee of Springfield Baptist Church in Conyers; Glenn and Valerie Morgan, founders of On Common Ground News, which marked its 22 anniversary in April; the Newton County Branch of the National Association for the Advancement of Colored People (NAACP), which was chartered September 1946; 
Special Agent Felicia N. Jefferson, for her work with the Newton County Sheriff's Office's Special Investigations Unit; 
Richard Oden, who was elected in 2009 as Chairman and Chief Executive Officer (CEO) of the Rockdale County Government and served until 2016; and Stephanie Holloman-Curtis, for her work with the NCNW and the community at large. In addition to chairing this year's luncheon, she has served as the Section's personal decorator for all events. She also has advocated for abused and neglected children through the Rockdale CASA program and served on Rockdale's SPLOST Oversight Committee, D. L. Sims Elementary School's PTO as president; Georgia School Council; and as senior advisor to Heritage High School.