Testingfg of Ads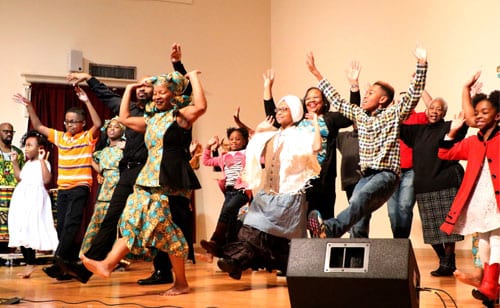 The Rockdale County NAACP's annual "Black History and Heritage Celebration" was a celebration indeed. The Feb. 11 program featured an array of dancers, drummers, spoken word artists and singers including, singer and songwriter Derrick Monk, who once produced for the late James Brown, the "Godfather of Soul."
The NAACP's program kicked off with a "Milestones in Black History Parade," featuring children from the community marching in with handmade posters displaying pictures and information about black historical trailblazers.
The celebration, which was held at the Rockdale Auditorium in downtown Conyers, included a lineup of performers from neighboring cities including the Rainbow Park Baptist Church Choir from Decatur who sang Negro spirituals a cappella; the Uhuru African dancers, also of Decatur; and soloist Monica Hoskins of Atlanta. Chelsea Williams, a fourth-grade student at Live Oak Elementary School in Covington, who portrayed abolitionist Sojourner Truth.
Rockdale talent included Corey Brown; the SiSaw Academy of the Performing Arts; and the Mission of Praise Dancers from Love & Hugs Christian Tabernacle. Legendary media professional Carol Blackmon emceed the program.
The NAACP honored several people during the program with President Thomas Brantley Jr., past president Gary King and Dwight Wicks, who chaired the Celebration Committee, presenting the awards.:
The Community Service awards went to Sheriff Eric Levett and his Command Staff; Pastor Billie Cox of Macedonia Baptist Church; and the Rev. Alfred Vaughn of Rock Temple A.M.E. Church.
The NAACP Community Legacy Award was presented to Pastor J. H. Battle of Peeks Chapel Baptist Church.
Gregory Vann of the Boyz to Men of Honor mentoring program received the NAACP's Youth Empowerment Award.
In addition to Dwight Wicks, this year's Celebration Committee included Jackie Johnson-Dickson; Pastor Anthony Smith; and Evetta Washington.
Photos by  Dexter Bowman Photography