Testingfg of Ads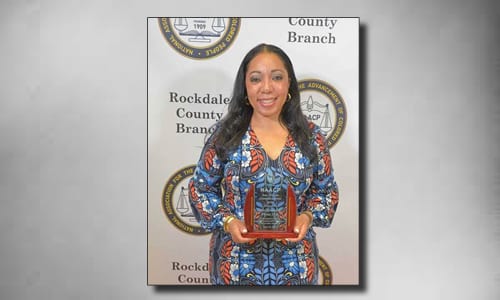 Rockdale County Chief Magistrate Judge Phinia Aten was honored as the recipient of the Rockdale NAACP's Jean Williams Community Service Award. She received the award at the NAACP's 30th Annual Freedom Fund Banquet on April 28 at the Rockdale Career Academy. 
 "We pick our best individuals in this community to receive this award.  Judge Aten definitely fits the bill bar none," said Tommy Plummber, the branch's vice president.
This year, Judge Aten was the branch's sole honoree due to her substantial efforts to engage, educate and empower children and young adults as well as improve judicial outcomes in the Rockdale Judicial Circuit, organizers said. 
 The banquet chair, Allene Eatman, who presented the award, highlighted Judge Aten's innovative court-to-community programs such as her video series, "Smart Justice;" her annual youth law camp for middle and high school students, and Aten's commissioned original children's play, "The Case of the Dog Owner Who Never Learned." The theatrical "mock trial" experience immerses students in the world of law and trial procedure. Aten also was commended for her mentorship of high school, college and law students; sustaining work with the Salem High School Intramural Mock Trial Competition and Morehouse College's Social Justice Debate Competition. 
"The award serves to recognize Judge Aten for her service and dedication for everyday Americans," said Eatman.  
 Judge Aten was moved to tears as she accepted the award.
"This award is so special to me because it comes from home; it comes from my community," said Judge Aten. "The main reason that I have the title 'judge' is to help our children. There are no 'throwaways.'. I embrace all of the children because they are our present, and future judges, lawyers, law enforcement officers, pastors, nurses, teachers and engineers, so we have to continue to pour into them and I am committed to doing that as long as I breathe."