Testingfg of Ads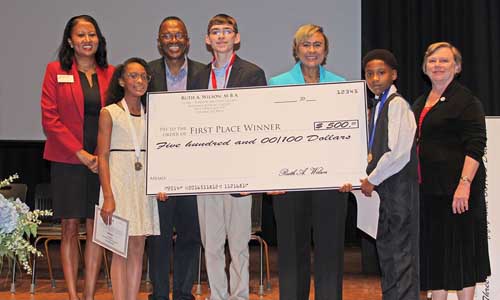 First Place winners
Congratulations to the winners of the Rockdale County Middle School Oratorical Competition, who were chosen on Oct. 28 by a five-member panel of distinguished judges. The annual event was held at Conyers Middle School.
The first-place winners each took home $500, second-place winners $350, and the third-place winners $150.
The competition judges were Rockdale Superior Court Judge Robert Mumford; Pastor Antoinette Alvarado; Rockdale State Court Judge Nancy Bills; Rockdale Probate Court Judge Clarence Cuthpert, Jr.; and Cory Thompson, director of communications at Georgia Piedmont Technical College. Toastmasters District 14 Director Al Wiseman served as speaking coach and emcee.
The oratorical competition was founded by Rockdale Clerk of Courts Ruth Wilson, who sponsors the event along with Lexicon Technologies, Evans Tool and Die, Snapping Shoals EMC and the Rotary Club of Conyers.
1st place: 8th grade—Samuel Clark of Davis Middle School; 7th grade—Laila Woods of Edwards Middle; and 6th— gradeMichael Tucker of Conyers Middle.
2nd place: 8th grade–Kai Merritt of Edwards Middle; 7th grade—Zada Washington of Davis Middle; 6th grade—Bonnie Roberts of Davis Middle.
3rd place: 8th grade—Kristy Morgan Cooper of Conyers Middle; 7th grade—Star Collins of Conyers Middle; 6th grade—Joshua Jamison of  Memorial Middle.
The first-place winners will present their speeches at the Rotary Club of Conyers' luncheon meeting on Jan. 18, 2018. The meeting will beheld at Conyers First United Methodist Church.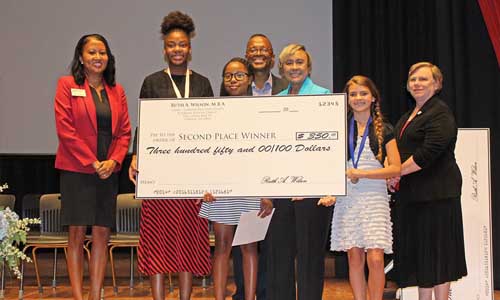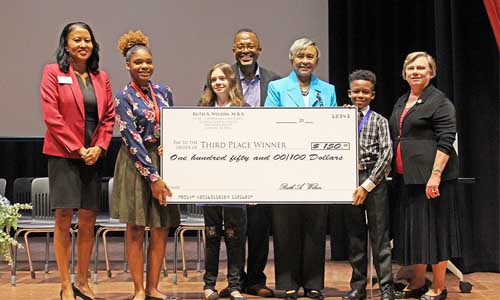 second-place winners                                                                                                         third-place winners