Testingfg of Ads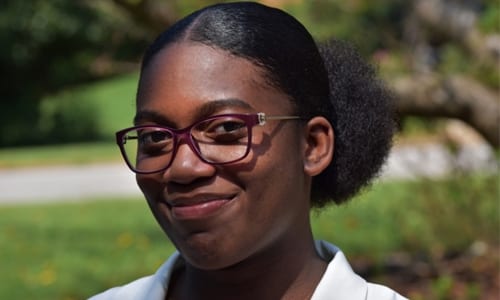 Ayana Moore, a senior who is in the Class of 202 at Rockdale Magnet School for Science and Technology (RMSST), has successfully completed the rigorous NatStuCo Student Leaders Program. Earning national recognition as a National Student Council Distinguished Student Leader, Moore is one of more than 1,100 students in the nation to achieve this highly sought-after recognition.
Moore said she was very excited to receive the recognition.
"As a senior, this is a big accomplishment – to know that a national organization has recognized my work," Moore said. I'm really thankful for Mrs. Powell for helping me along the way to get to where I am now. I'm thankful to Brandon Shakespeare and Natalie Arias from the Class of 2020 for helping me grow in my position and also for helping me complete the submission requirements. I'm also thankful to my mom for always transporting me to all these events!"
Moore completed a series of required tasks and activities in order to complete the program and become a certified student leader. The rigorous application process involves the creation of a portfolio of evidence that demonstrates completion of a number of activities inclusive of modules on leadership, goal setting, team building, decision making, problem solving, group dynamics, time management and personal organization, meeting management, communication, evaluation, service, civic engagement and personal leadership philosophy. Applicants must also participate in an assessment meeting with their advisers and principals to verify completion of the requirements. Student portfolios and applications are then forwarded to NatStuCo for a final review. Upon successful completion of the program, students are recognized as Distinguished Student Leaders.
The Student Leaders Program is sponsored by the National Student Council (NatStuCo) and the National Association of Secondary School Principals (NASSP). For more information on the National Student Council Distinguished Student Leaders Program, visit www.NatStuCo.org.
For more information about RMSST or about Rockdale County Public Schools, visit magnet.rockdaleschools.org or www.rockdaleschools.org