Testingfg of Ads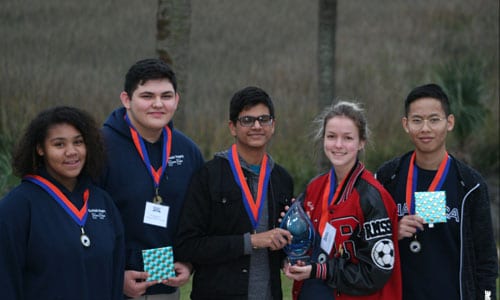 The Rockdale Magnet School for Science and Technology team won the Southern Stingray Bowl, a regional ocean science academic competition that is part of the National Ocean Sciences Bowl(NOSB).
The Southern Stingray Bowl, which was hosted Feb. 1 by Savannah State University, tests students' knowledge of ocean science disciplines through buzzer-style, multiple-choice questions and open-ended team challenge questions.
The Rockdale Magnet School for Science and Technology team will join winners from 22 other regional bowls on April 16-19 in Long Beach, Mississippi, for the NOSB Finals. Students on the championship team include Sydney Moodie; Hector Aguirre; Shivam Vohra; Carly Kimpling; and Daniel Luu. Diana Kennen serves as the team's coach.
The NOSB, a program of the Consortium for Ocean Leadership, is building the next generation of marine scientists, policy makers, teachers, explorers, researchers, technicians and environmental advocates.
This year's competition theme, Understanding Human, Economic, and Environmental Resiliency in the Gulf of Mexico, let students explore the many complex functions of the Gulf of Mexico, America's "living laboratory," while also connecting scientific processes to the many people who call the Gulf their home. From its role in regulating global ocean temperature to its importance as a home to a diverse array of flora and fauna, the Gulf provides researchers with the opportunity to study the intersections of oceanography, biology, geology, chemistry, and the social sciences across both large- and small-scales.
This year's theme is especially relevant as 2020 marks the 10-year anniversary of the Deepwater Horizon oil spill — considered to be the largest marine oil spill ever. Scientists who have been studying the environmental and social impacts of the spill are now synthesizing what they've learned about response, restoration, recovery, and resiliency, and how they can apply that knowledge to other events.
"Economically, ecologically, and culturally, the Gulf of Mexico is a valuable resource where you can really see how closely linked science and society are, so we're thrilled that NOSB students got the chance to focus on it this year," said Kristen Yarincik, director of the NOSB at the Consortium for Ocean Leadership. "Giving students the opportunity to learn about some of the groundbreaking research going on in the Gulf as well as the social implications of that work is key to the mission of NOSB. We want to help students become thoughtful, ocean-literate citizens who understand the broader value of scientific research, even if they don't become scientists. Congratulations to all the brilliant students who competed this year, and we can't wait to see all of our regional winners in Mississippi."
The 2020 National NOSB program is made possible through the  National Oceanic and Atmospheric Administration, Wendy and Eric Schmidt and other sponsors.