Testingfg of Ads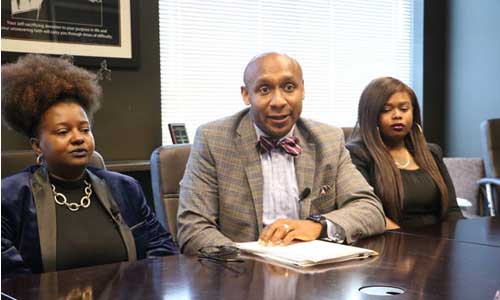 CORRECTED DATE FOR PRAYER VIGIL
A Rockdale County Jail supervisor falsified jail logs to cover up the fact that deputies failed to make mandatory 15-minute checks on Shali Tilson, 22, who died in March of severe dehydration while in custody.
Attorney Mawuli Davis, who is representing Tilson's family, on Friday shared findings from the Rockdale Sheriff's Office's internal investigation with On Common Ground News. The report reveals negligence, lies and a lack of concern for the mentally ill man, who was on suicide watch in a cell where the call button didn't work.
"They failed Shali Tilson. They failed to perform their duties. They failed to protect his life as they were charged to do…" said Davis. "This report clearly lays out all of the failures that happened that resulted in Shali's death… How you would have someone on suicide watch unable to communicate with a button that doesn't work doesn't make sense. The people in Rockdale County and around the country should be absolutely outraged over this."
Davis said it is unclear why Tilson was never evaluated and placed in a mental health facility after Conyers Police arrested him on March 3 on misdemeanor charges. Tilson reportedly tried to kick in the door of a stranger's apartment, cursing and rambling.
When Tilson arrived at the Rockdale County jail, he was placed in a restraint chair, said Davis. Tilson remained in jail for nine days as his family tried to come up with bail to bond him. He eventually wound up on suicide watch after displaying combative behavior, Davis said.
On March 12, hours before his death, a jail video shows Tilson trying to climb the cell door, pushing trash around the floor, and pressing a call button that didn't work. A supervisor said the button had been broken for a while, according to the internal report. Tilson, who took off his gown, lay down naked in a corner of his cell around 5 p.m.
At 8:35 p.m., Sgt. Dan Lang, the booking commander, looked inside Tilson's cell. Deputies opened a flap on the cell door and Cpl. Christian Klein fired his stun gun, thinking Tilson was asleep, the report said.
"I just did it close to the flap so he'd be able to hear it, because you know that would get my attention if I was asleep and wasn't waking up, you know that would wake me up," Klein told an investigator.
Klein stepped inside the cell and felt Tilson's arm. He told Lang that he believed Tilson was dead. Tilson had in fact expired. The deputies called for help.
According to an autopsy report, Tilson's cause of death was dehydration. Blood blood clots filled his lungs.
Lang later admitted to internal investigators that he falsified the March 12 jail logs, saying the required 15-minute checks had been conducted.
Lang's supervisors recommended he be terminated but Lang resigned in April before he was fired. Deputies Eric Tolbert and Ladean Shired and Lt. Jim Bogardts received suspensions of about a week for not conducting the required checks, according to Channel 2 Action News and the Atlanta Journal-Constitution and Channel 2 Action News, which conducted a joint investigation.
"I'm outraged that they all got a slap on the wrist and my son got a death sentence," said Tynesha Tilson, the mother of the deceased man. "My son's never coming home. They get to get up every day and feed their families."
Rockdale Sheriff Eric Levett had said previously that he would not speak publicly on the case until the investigations were completed. The investigation continues as Rockdale District Attorney Alisha Johnson conducts her own probe.
Davis said, however, Sheriff Levett should have long ago publicly accepted responsibility for negligence concerning Tilson's death, based on the Sheriff's Office own internal investigation.
"They should have said 'I'm sorry. "What happened to Shali Tilson should not have happened. They've yet to say that and the report says they should have said it long ago, rather than telling people they should humble themselves."
Tilson's family is still struggling over his death. His sister said she has to be strong to help her parents cope.
"Every day, I'm trying to find the strength to deal with it, and also find the strength to help my parents," said Diamond Tilson.
Sept. 12 will mark six months since Tilson's death. The family is planning a candle light vigil at the Rockdale County Jail on Saturday, September 15 at 7:30 p.m. to remember the young man.