Testingfg of Ads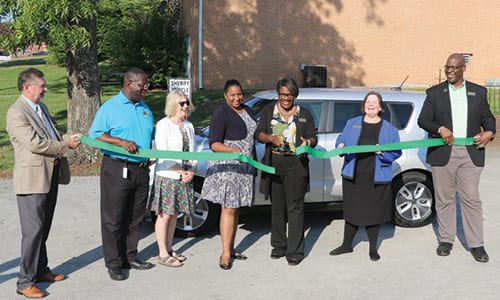 by Valerie J. Morgan
Rockdale County has taken another step in becoming greener. County officials held a ribbon cutting ceremony on July 11 to celebrate becoming the first government in Georgia to purchase an electric vehicle under the state's agreement with Kia Motors. 
The Rockdale County Tax Commissioners' Office unveiled its new Kia Soul on July 11. Tax Commissioner Tisa Smart Washington said her office was able to purchase the vehicle with the support of the Rockdale Board of Commissioners and Gov. Nathan Deal's Automobiles Manufactured in Georgia initiative, which simplifies the process for governments to buy vehicles from Kia Motors and other companies that build vehicles in Georgia.    
"This was an opportunity for us to expand our green footprint here in Rockdale with other green achievements that we've made. It's great because there's no maintenance and no fuel costs with the new car," said Washington, pointing out that the Rockdale Tax Commissioner's Office opened a charging station in 2015.     
Board of Commissioners Chairman Oz Nesbitt, who attended the ribbon cutting, commended Washington and her staff for taking the lead to go green.
"It's about clean energy and being able to cut down fuel costs, and savings and efficiency," said Nesbitt.  
The Atlanta Regional Commission (ARC) has honored Rockdale County for its leadership in green initiatives. In 2016, the county was among five government entities that earned a Bronze Certification in ARC's Green Communities program. The other governments included the cities of Atlanta, Norcross, Peachtree Corners and Woodstock, which were all recognized for collectively producing 52 million watts of green power.  Rockdale's installation of fire station solar panels contributed to that number. Rockdale also earned the certification because of its protected greenspace including two community gardens, efforts to provide fresh fruits and vegetables through a Farmer's Market, building the Lorraine Park Trailhead on a brownfield site, installing bike racks at more than half of its community centers and installing LED lighting at Johnson Park.