Testingfg of Ads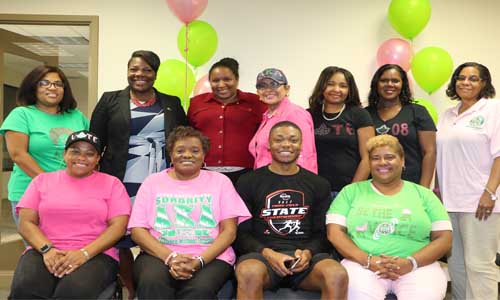 Alpha Kappa Alpha's Chi Tau Omega Chapter, in partnership with NewRock Legal Society and other organizations, held a voter registration drive in Rockdale and Newton counties on National Voter Registration Day, Sept. 26.
This year marked the fourth or fifth year the Rockdale and Newton volunteers have mobilized for the national event, said Debbie Hillman, who helped coordinate the effort.
Although the groups held a daylong drive at the Rockdale Sheriff's Office South Precinct, volunteers also visited schools and inmates, Hillman said.
"We registered 26 high school students and 58 inmates," said Hillman.
Sundiata Washington, a Rockdale Magnet School senior who is the son of Rockdale Tax Commissioner Tisa Smart Washington and David Washington, a staffer for Congressman John Lewis, was one of the students who took advantage of the opportunity to register to vote.
"We had discussed that he would register when he turned 17 ½ in June. This was the perfect opportunity," said Tisa Washington, jokingly adding "Now, he can vote for his mom when election time comes around."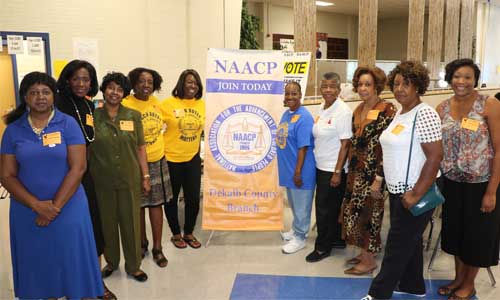 Hillman said just as important as reaching young voters such as Washington was reaching the inmate population.
"Our goal was to educate inmates on re-entry, to let them know that they can have a voice in our democracy," Hillman said.
In DeKalb County, the NAACP mobilized volunteers for voter registration drives that it held in two locations: Columbia High School in Decatur and Georgia Piedmont Technical College in Clarkston.
"We had almost 20 volunteers helping us to register," said Teresa Hardy, DeKalb NAACP president.
Hardy said the high school students were eager to register, although some of them were not of age and could not participate.
"They were asking once they turned 17 ½ how long would it take to get their card and when would they be able to vote," Hardy said. "They were looking forward to our visit because their counselors had talked about the registration day."
Hardy said the DeKalb NAACP is planning to hold another voter registration drive in February.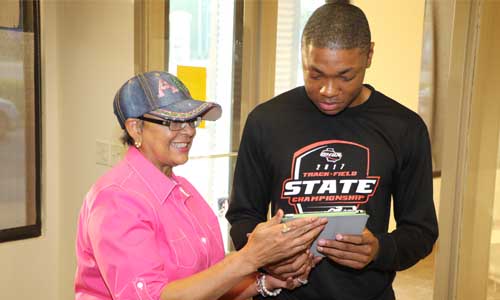 Although local outreach efforts were focused on getting people to fill out registration paperwork, other states have enacted automatic voter registration. Oregon is among the states that use existing databases such as the state's Department of Motor Vehicles to register voters. Individuals can then opt out of voter registration, if they choose. Oregon officials report that automatic registration significantly increased voter turnout last year.