Testingfg of Ads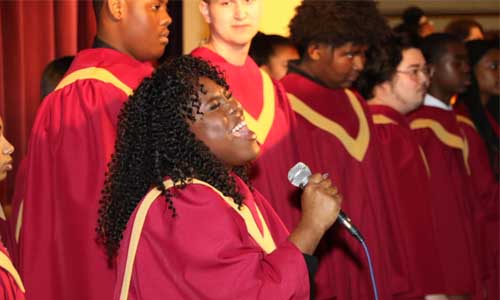 Members of the Salem High School choir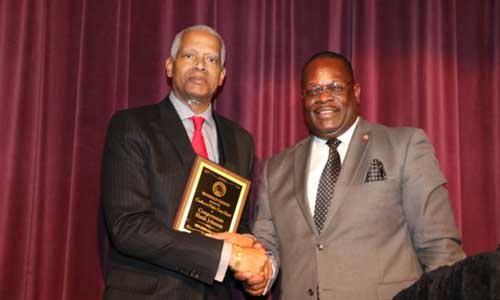 Congressman Hank Johnson  received the county's MLK Day "Excellence in Public Service award
Rockdale School Board member Heather Duncan received the 2019 MLK Leadership Award
Young people from Rockdale County Public Schools and the community demonstrated their amazing talent before a packed crowd today, drawing standing ovations for their performances.
Anchor and reporter JenniferBellamy of 11Alive served as MC of the two-hour event, which was held at the Rockdale Career Academy.
At the program, Rockdale Chairman Oz Nesbitt announced Congressman Hank Johnson as the recipient of the county's MLK celebration's "Excellence in Public Service award." Johnson was recently re-elected to his seventh term serving the 4th District, which includes parts of DeKalb, Gwinnett, Newton and all of Rockdale County. Johnson's wife, DeKalb Commissioner Mereda Davis Johnson, accompanied him at the event.Rockdale School Board Heather Duncan received the 2019 MLK Leadership Award for her work in advocating for students and teachers.
Rockdale Chief of Staff Corey Hambrick said the celebration was the vision of Chairman Nesbitt. Hambrick said the goal was to partner with the Rockdale County School System, School Superintendent Dr. Terry Oatts and dance organizations in the community to commemorate the life and legacy of Dr. Martin Luther King, Jr.
Communications Director Jorge Diaz and staff member Sitarah Coote worked to coordinate the program, bringing together several community partner . Diaz thanked the sponsors and co-chairs Melissa Mims and Jenae Duncan.
More photos at  On Common Ground News (Official)Facebook.