Testingfg of Ads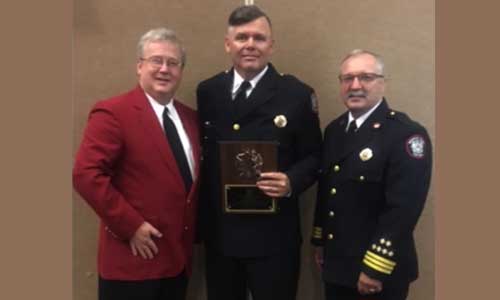 The Georgia State Firefighters Association (GSFA) recognized Fire Safety Educator Jacade Long as the recipient of the 2017 Educator of the Year Award. This award honors a member of Georgia's fire service community who has exemplified a dedication to educating residents about the significance of fire safety and prevention. Long received the award during the 2017 Georgia Fire Service Conference Awards on Aug. 26 in Athens, GA.
As a fire safety educator and public information officer for the department, Long coordinates fire safety education activities for nine stations and 140 firefighters. He is credited with starting multiple, creative initiatives to involve the community in fire safety education.
In response to receiving the award, Long said "Thanks is reserved for those that stand in wait, that offer support, while the work at hand is bound together. I thank all that have provided this support, as not for them I could not be here to except this honor. As an educator, my thoughts focus on learning from the professionals around me. These lessons borrowed may be shared and at some point in time save the lives of loved ones, friends and family.  We are all students with lesson plans to share."
Rockdale County Fire Chief Dan Morgan expressed his gratitude for Long's work with Rockdale County Fire-Rescue (RCFR).
"Jacade is a natural in bringing people and groups together for the betterment of the community. His innovative ideas are changing the way we engage people about fire safety and preparedness and people love it," Morgan said.
"Rockdale County is honored to have an educator like Jacade who is dedicated, hands-on and passionate about his duty to inform the public about fire safety," Board of Commissioners Chairman Oz Nesbitt said. "Rockdale County Fire-Rescue is fortunate to have such a resource in Jacade and we congratulate him on receiving this honor."