Testingfg of Ads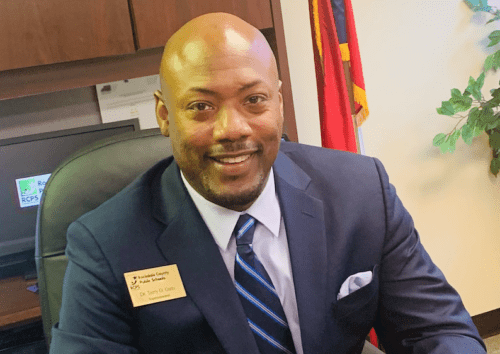 The Rockdale County Board of Education (BOE) was recently selected by the Georgia School Boards Association (GSBA) for the Leading Edge Award for the second consecutive year, which highlights school districts that are leading the way in ensuring students are competitive in an ever-changing global market. The Rockdale County BOE was recognized for its innovative Early Learning initiatives and will be honored during the Georgia School Boards Association / Georgia School Superintendents Association Virtual Annual Conference, December 3-4, 2020.
"We are thrilled to be recognized for the second consecutive year with the GSBA Leading Edge Award," said BOE Chairwoman Mandy North. "Our Board of Education is committed to supporting our Early Learning initiatives so that every child in Rockdale County is ready for kindergarten and beyond."
Rockdale County Public Schools (RCPS) Superintendent Dr. Terry Oatts commended the board.
"I commend our Board of Education for their unwavering commitment to prioritizing Early Learning," Oatts said. "This prestigious GSBA recognition is not only a testament to the dedication of our Board, but also to the amazing work of our Early Learning and Early Learning Center staff. Having visited our Early Learning Center on several occasions, I have seen firsthand the genuine connections our staff makes with our families to ensure that they have the necessary tools to be their children's first teacher from birth. Our Early Learning and Early Learning Center staff optimally prepares our youngest learners daily for their educational journey. Congratulations to al.!"
The nomination for the GSBA Leading Edge Award highlighted the innovation of RCPS Early Learning initiatives such as the creation of Early Learning Center, a NAEYC (National Association for the Education of Young Children) accredited program housed at the Rockdale Career Academy which also creates a learning lab for high school students in the Early Childhood Education pathway. Early Learning programs at RCPS have grown from one pre-K classroom 17 years ago to more than 18 preschool and pre-K classrooms as well as Parents as Teachers parent educator programs for children ages 0-5. Focusing on literacy preparation for our youngest learners is a priority for RCPS Early Learning. Students participating in Early Learning at RCPS significantly outperform other students, with data indicating 94 percent of students in our Early Learning programs enter kindergarten with necessary math background information and 98 percent of students demonstrate literacy readiness. RCPS also serves as a leader, partner, and resource for early learning programs, coalitions and initiatives throughout the community.
The Rockdale County BOE was named a GSBA Exemplary Board, the highest status in the GSBA Board Recognition Program, in 2019, 2018, 2016, and 2015. The GSBA Board Recognition Program was paused during 2017 and revised to require an even higher level of commitment from school boards and individual members.