Testingfg of Ads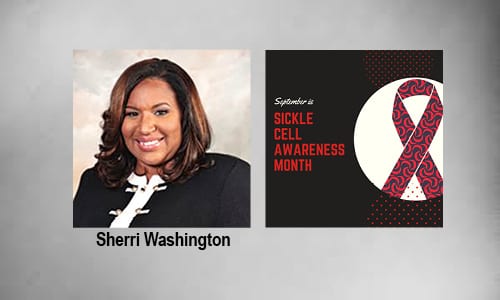 By Mackenzie N. Morgan 
Rockdale County Commissioner Sherri Washington is doing her  part to make the community more aware of sickle cell anemia as the nation observes Sickle Cell Awareness Month in September. 
Washington knows firsthand how devastating sickle cell anemia can be. Her  sister,  Lori Davis, died from complications of the disease last November. 
"Sickle cell is an autoimmune deficiency disease that affects primarily African Americans. If you've never had to live with anyone who has been through that, you're blessed," Washington said during comments at the Rockdale Board of Commission meeting on Sept. 26.  
Sickle cell is a genetic blood disorder that causes red blood cells to become misshapen and break down. The misshapen cells resemble a sickle, which is a c-shaped farm tool. The contorted blood cells die prematurely, leaving a deficiency of healthy red blood cells which can cause blood flow blockages resulting in excruciating pain, infections and fatigue.
Millions of people are unaware that they carry the sickle cell trait because the trait itself does not cause illness. That's why Washington is urging the public to get tested and learn more about the disease. 
According to the CDC, about 100,000 people in the United States have sickle cell disease, mostly among the African-American population. Though it occurs in all races, sickle cell is a heavy hitter in the black community, with 1 out of 365 Black or African-American births. 
Treatments for the disease include medication, blood transfusions, and rarely a bone-marrow transplant.
In observation of Sickle Cell Awareness Month, Washington encouraged attendees at the BOC meeting to donate to organizations that assist sickle cell patients and their families on behalf of her sister, Lori Davis. 
"Think of the people that have sickle cell and their families and please donate," Washington said.