Testingfg of Ads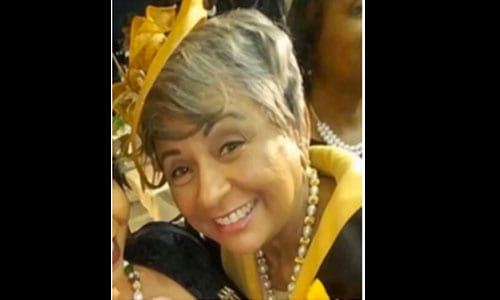 The Rockdale Coalition for Children and Families has announced that the 2020 recipient of the F. William Hughey Community Service Award is Ruth Wilson, recently retired Rockdale County Clerk of Superior and State Courts and community service advocate.
Wilson was elected to serve as the Clerk of Superior and State Courts, taking office in January 2009. She was the first African- American elected to a constitutional office in Rockdale County.
Prior to seeking elective office, Wilson served for 26 years with AT&T. Her experience as marketing director for AT&T, where she created and managed interdisciplinary teams and a $250 million budget and produced highly profitable software-based services, made her uniquely qualified to focus on expanding the technological capacity of the Clerk's Office.
As a Certified Clerk of Superior Court, Wilson made significant improvements in the operation and management of the Clerk's Office that included launching an interactive website, implementation of financial management software, introduction of online payment services, providing internet access to court records, and more.
The F. William Hughey Award is presented annually to a person who has demonstrated outstanding community service in Rockdale County.
"It is for her commitment and service to community that the Coalition presents her with the Rockdale Coalition F. William Hughey Award for Community Service, the organization said in a news release
Throughout her life, Wilson has been a community servant leader in both elected and appointed positions. Her commitment to community, family and children can be chronicled through her lifetime and tireless involvement in and leadership of Jack and Jill of America, Inc., (a national nonprofit that focuses on children, families and community support). She has continued to provide community leadership and youth mentoring throughout Rockdale County.
Wilson created a public/private partnership to produce the Rockdale County Middle School Oratorical competition. She has also created the Rockdale County Family Law Information Center which provides free legal consultations.
Wilson has contributed countless hours to the Conyers-Rockdale Chamber of Commerce, Leadership Rockdale, and the Rotary Club of Conyers serving as chair of Literacy, Youth Services and Membership as well as held a variety of leadership roles in several faith-based ministries. She has been recognized by the Chamber of Commerce and the Rockdale County Public Schools Foundation for her service above self. She has donated more than $100,000 to local nonprofit, educational and charitable causes through her own grant program."
Allan Jones, chairman of the Rockdale Coalition for Children and Services, commended Wilson for her commitment to the community.
"The Coalition is honored to present this award to someone with the heart of a servant leader," said Jones. "Even in her retirement from serving as clerk of court and the programs she has established for the betterment of our community, I have no doubt her service and desire to pour into others will continue."
In recognition of the award, Wilson was presented with a $500 cash donation to be given to a local community service organization of her choice. Wilson selected Hills Academy as the recipient of the donation, a faith-based private school for boys located in Conyers dedicated to providing a customized education to meet their diverse academic and social needs.