Testingfg of Ads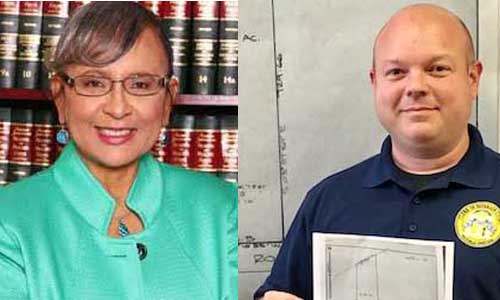 Rockdale Clerk of Courts Ruth A. Wilson           Chief Deputy Clerk James Cabe
Rockdale Clerk of Courts Ruth A. Wilson, who has served 10 years in office, has announced her retirement. She said she will not seek re-election next year and plans to retire from office on March 31, 2020.  Wilson's term ends Dec. 31, 2020.
"It has been my pleasure and distinct honor to serve the citizens of Rockdale County. While I will miss the opportunity and responsibility of serving the courts, the public and the legal community as well as my wonderful staff and colleagues, it is time to step aside and focus on other duties," Wilson stated in her notice of retirement to Rockdale County's Chief Judge David B. Irwin and Gov. Brian Kemp on Friday, June 14.
Pursuant to state statutes, OCGA 15-6-53(a), Chief Deputy Clerk James Cabe will assume the duties of Clerk of Superior and State Courts on April 1, 2020, without the necessity of a Special Election.
"I have every confidence in his ability to lead this Office," Wilson said in her notice.