Testingfg of Ads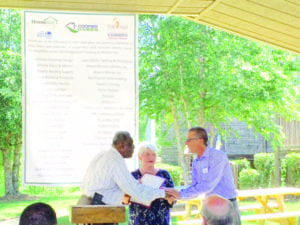 Rockdale County leaders and community partners recently celebrated the completion of the second phase of Phoenix Pass, a nonprofit that provides transitional housing and training to help homeless women and their children become self-sufficient.
The year-long construction of the $600,000, 7,200-square-foot apartment complex was a collaboration between Home Aid Atlanta, which worked with several building trades that donated their services, Cooper Homes of Atlanta, and the community. Officials said last week minor touch-up work will be done over the next few days to fully complete the project.
Rockdale County Board of Commissioners Chairman Richard Oden said the new apartment complex represents a "new horizon" for the county. He congratulated Jean Yontz, executive director of Phoenix Pass, and Jeff Beech, founder of Lighthouse Village and Phoenix Pass.
"We are proud to celebrate this day. Phoenix Pass is providing economic support for Rockdale County by helping families become productive citizens," said Oden, who presented a proclamation declaring June 10, 2016 as Phoenix Pass Recognition Day at the ribbon cutting and dedication celebration for the project.
Phoenix Pass is a welcome resource to the community. The facility's location on Sigman Road in Conyers is shared by three nonprofits that work together: Phoenix Pass, which provides housing and training to homeless women and their children; Lighthouse Village, which owns the building; and Haven House, which serves developmentally-challenged individuals and their families.
Phoenix Pass provides free furnished apartments to homeless, single women and their children for up to two years while they learn to live independently. The complex includes two buildings with eight single-family, two-bedroom apartments in each building and a resource and opportunity development center. The program is currently filled to capacity but opens for applicants as others who are in the program receive the help they need to successfully live on their own. For more information, call 770-918-2152 or visit www.phoenixpass.org.