Testingfg of Ads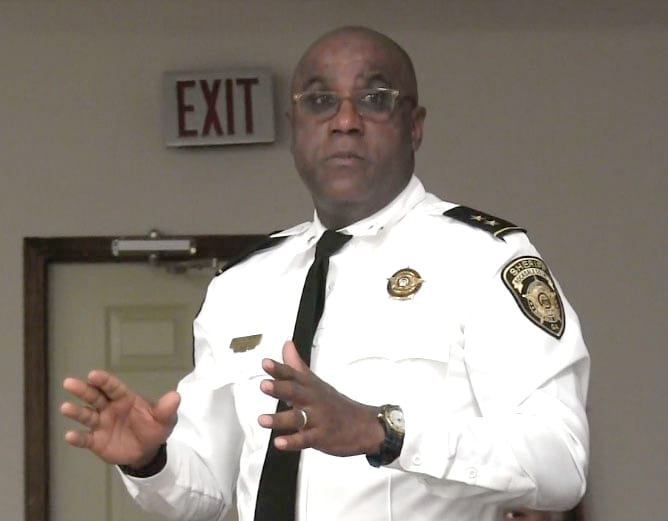 By Valerie J. Morgan
Rockdale County Sheriff's officials say they are preparing for "agitators" this Saturday (June 9) as organizers rally to demand justice for two people who died in the custody of the Rockdale County Jail.
Shali Tilson, 22, a Rockdale resident, and Jamie K. Henry, 40, died less than three months apart while they were held at the Rockdale County Jail. Their deaths have sparked an outcry from several activists and groups, including the Rockdale NAACP, which is demanding immediate action and accountability from Sheriff Eric Levett.
Chief Deputy Dale Holmes, second in command at the Sheriff's Office, said several law enforcement agencies have been contacted to provide assistance for public safety for this coming Saturday.
"We respect people's rights to protest," Holmes said.
"We've got several agencies coming in to monitor and keep an eye on what's going on…Hopefully, we're going to get these agitators who come in and mess up things. Agitators come in from other states. They just come in to make it bad for everybody. They want to get arrested. They've got people to bail them out. Understand: we're going to look out for public safety in Rockdale. That's what we're going to do."
Holmes made the comments during the Rockdale NAACP's meeting on Monday night where members of the community probed Sheriff Levett about the Tilson and Henry cases.
Levett said there were some questions he just couldn't answer because the cases are still under investigation and he reiterated his position:
"…I'm not going to hide behind anything and I'm not going down for covering up anything… I said that if anyone in this office has done anything, we are going to hold them accountable," said Levett.
Attorney Mawuli Davis, who is representing the families of Tilson andHenry, said during a news conference on Tuesday that organizers are planning a peaceful demonstration, and he called on tlocal and national support.
"These families will appreciate people coming forward," Davis said. "It could be you. Shali Tilson was in jail on misdemeanors. Jamie Henry was in jail on a hold from another county. They weren't in jail for committing any violent offenses. They were in jail for things that you would typically be bonded out for and get to go home to your family."
Davis encouraged the faith communities to show their support.
"We need the faith communities to step up and make a definitive statement about what has happened with these loss of lives," said Davis, who also called on members of the hip-hop community to utilize their platforms to bring national attention to the two inmate deaths."
Davis said he is particularly concerned that the GBI, which was called in to investigate the Tilson death on March 12, was not called in to investigate Jamie Henry's death. Jailers found Henry unresponsive in her cell on May 26, called 911 and she was pronounced dead at Piedmont Hospital in Rockdale. Henry had been in jail about 12 hours, said Sheriff's spokesperson Yolande Lovinggood-Moore.
"It's disturbing that they (the Sheriff's Office) went a different route and did not call in the GBI to investigate her death," said Davis.
Davis said Henry had a drug problem and should have been supervised more closely.
"She was screaming and crying out for help and she did not get it," said Davis.
Davis said both Tilson and Henry were neglected while they were in the custody of the Rockdale County Jail.  The GBI has determined that Tilson died from dehydration during his nine-day stay.
Authorities have not released Henry's cause of death.
At Davis' news conference on Tuesday, Henry's parents, Renia and Donnie Donaldson, and her fiance' Robert Thompson, expressed their shock and pain over the death of their loved one.
"I still can't believe this has happened. I relive it every morning," said her mother, who said she never had the chance to view her daughter's body after her death.
Meanwhile, the Rockdale NAACP is demanding that jail leaders and medical staff be relieved pending the outcome of the investigation of the two deaths.
"We are calling for immediate action and accountability for these two losses of life. The citizens of Rockdale County and surrounding communities in Georgia are seeking justice for the Tilson and Henry families. The leaders of the jail need to be relieved of their duties immediately pending further investigation," Rockdale NAACP President Thomas Brantley said in a letter to Sheriff Levett and Chief Holmes. Demand letter for Tilson and Henry case
The rally is scheduled for Saturday, June 9, 3 p.m. at the Rockdale County Jail, 911 Chambers Drive, Conyers.