Testingfg of Ads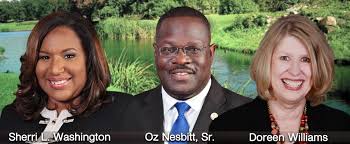 Two Rockdale County Commissioners say they have serious concerns about a $297,000 contract Chairman Oz Nesbitt is proposing to give an Atlanta company to supervise 56 children of county government workers for 82 days while the students attend classes virtually.
Commissioner Sherri L. Washington and Doreen Williams say the contract was never put out for bid or presented to them for ratification by Nesbitt, who chairs the three-member Board of Commissioners.
Nesbitt is proposing to give the contract to Positive Outcomes, LLC, which ran his five-day summer youth enrichment program in 2019. More than 30 rising sixth graders attended the program at the JP Carr Community Center.
Nesbitt could not be reached, despite a text message to his cell phone.
Positive Outcomes, LLC would receive the $297,000 from the $3.9 million federal CARES Act that Rockdale received to provide assistance to communities as a result of COVID-19, Washington said.
Washington and Williams said they learned about the contract  after seeing a flier inviting parents who had pre-registered their children for the free program to attend an open house scheduled Aug. 20. The program was pitched as an  "employee benefit" to Rockdale County government workers.
"Who earns $297,000 for supervising 56 children for 82 days while the students are learning online?" said Washington. "We have over 90,000 residents impacted by COVID-19. Why would we spend that kind of money for one contractor serving 56 children? We don't know if she(the contractor) has gone through a background check to work with children—and I'm saying she—because our Finance Director  referred to the contractor as a female when I met with her on yesterday (Aug. 19) to discuss the matter."
Commissioner Williams said she found it disturbing that no details  about the contractor were communicated to her or Washington.
"The procurement process was not followed," said Williams. "Anything over $15,000 must go through our bidding process and this project did not. We were never given any details about it."
Washington also is questioning why money was spent for computers and desk shields and the use of the Johnson Park recreation center was committed for the program. The Board of Commissioners neither approved the expenditures nor the use of the building, she said.
Washington said she was shocked to learn about the contract, with only a few days before Rockdale County Public Schools students are scheduled to return to classes virtually next week.
Washington said the county's finance director told her that she was concerned that many county workers were planning to call in sick because they do not have child supervision for virtual learning at home.
"The director said she was afraid a lot of them were going to call in sick and the program was a way to resolve that issue," said Washington. "I still don't know how the contractor was selected."
On Common Ground News could not reach the finance director on Aug. 20.
"I think that we can help our county employees, but I am proposing that we provide them with vouchers that they can use to find their own supervision—rather than just give $300,000 to one individual," Washington said.
Williams said she supports Washington's idea.
Washington questioned the way the proposed contract was structured. She said no vendor can receive more than $100,000 for professional services in a single year.
The contract for services states that Positive Outcomes, LLC would receive $98,854 for services provided Aug. 12, 2020 to Sept.  23, 2020 for 51.25 hours per week. The company would receive a second payment of 98,854 for Sept. 24, 2020 to Nov. 4, 2020 for 51.25 hours per week.  The final payment of $98,854 would cover the period of Nov. 5, 2020 to Dec. 18, 2020 for 51.25 hours per week.
Positive Outcomes, LLC does not list the name of the independent contractor on the agreement for services. However, the document states that "the independent contractor will communicate directly with the Human Resources Director who will oversee the results and quality of the evaluations."