Testingfg of Ads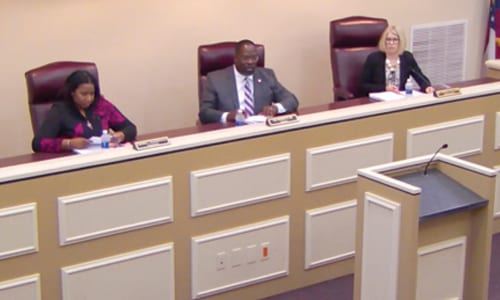 By Valerie J. Morgan
Bowing to pressure from the public, the Rockdale Board of Commissioners unanimously rescinded its contract on Feb. 13 for Greenhood Industries to conduct a feasibility study for mandatory uniform trash pickup and recycled household grease services.
The 3-0 decision followed the Feb. 6 board work session where a crowd turned out to voice opposition to the contract, rejecting the idea they might be forced to use an outside hauler selected by county officials. Currently, there are several local trash service providers in the county. Residents may choose who they want to haul their trash.
The BOC had approved a five-year contract on Jan. 23 for Greenhood to conduct the feasibility studies, but got an earful after the community learned of the contract awarded to the Augusta firm.
Commissioner Doreen Williams thanked the citizens for expressing themselves at the works session. She said she supported the initiative because she wanted to see if the contract would provide any guidance regarding recycling pickup.
"That was really my main motivation in doing that," said Williams.  "But I heard all of your comments and again, I really appreciate all of them. Thank you so much for coming out and speaking the things that were on your hearts and minds."
Commissioner Sherri Washington had taken the brunt of the criticism because she chaired the discussions on Greenhood's proposal, although the board voted unanimously for the contract.
Washington, who made the motion to rescind the contract, also apologized for not allowing residents to weigh in before initially approving the contract. She said she would like to form a commission comprised of citizens and other stakeholders to look comprehensively at sanitation, recycling programs and a way to address illegal dumping in the county.
"What I would like to do is start a commission on sanitation reform, a commission with citizens appointed by us to look at the overall picture of what it would look like for some kind of program in Rockdale County, and I don't know what that means," Washington said. "I don't know if that means mandatory… I don't know what it means. It will come from you all, directing us on how you all would like to go in that initiative."
Washington said she realized the contract was not handled properly after the public's outcry.
"…I realize now that it was the how. It was as if we were telling you and you all not telling us. So I want to reverse that and let's do this the right way, get your input on the front end and move forward," Washington said.
Brian Jenkins, one of 11 people who spoke during public comments on the contract, blamed Nesbitt for the confusion, saying he knew the community was against curbside pickup based on discussions in the past. Jenkins said Nesbitt could have easily conveyed to Washington that this was a "non-starter" in this county.
"Many have directly blamed Commissioner Sherri Washington for the re-emergence of this disastrous deal, and while doing so, have ignored the complicity of Chairman Nesbitt… Let me remind all three of you commissioners were in support of this disastrous deal. But to hold Commissioner Washington, and to a lesser extent, Commissioner Williams, equally responsible would be slightly unfair. After further investigation on my part, it is my belief that the two women genuinely thought they were addressing a vital need."
At the end of the meeting, Commission Chair Oz Nesbitt Sr. apologized for the Greenhood contract and asked that the citizens continue to be involved.
"I want to apologize for any missteps that were made in the process over the past week. But I think the sentiments of this crowd and community over the last week has been let's bury this trash issue and lay it to rest," said Nesbitt. "We've got so many more important things to address. We have heard you and we heard you very loud and clear. We ask that you accept our sincere apology and that you rally along with us to  move the county forward. "