Testingfg of Ads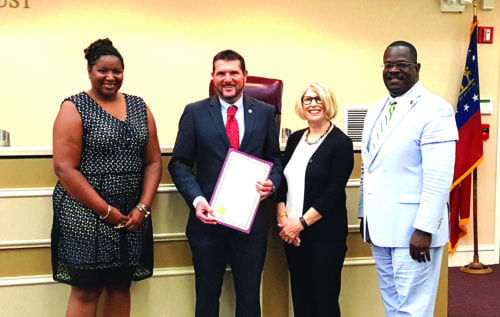 Rockdale County officials recently saluted National EMS for providing emergency care to the North Georgia region for more than 40 years. The Rockdale Board of Commissioners (BOC) presented a proclamation to the company declaring June 6 as National EMS Recognition Day.
Rockdale Commissioner Sherri Washington, Post 1, was joined by BOC Chairman Oz Nesbitt and Commissioner Doreen Williams, Post 2, in reading the proclamation during the board's work session. Benny Atkins accepted the proclamation on behalf of the family-owned business, which was founded by his parents, Pat and Mary Ellen Atkins.
The Atkins started operating the business from their home in 1976 in northern Cobb County with just one ambulance. The company became incorporated in 1977.
Today, National EMS provides emergency medical services across five northeast Georgia counties including Athens-Clarke, Morgan, Oconee and Rockdale.
After securing the 911 contract for Rockdale County in 1983, National EMS relocated to Conyers, where the company continued operating for more than 30 years. In 1993, National EMS became the first accredited EMS service in Georgia and the nineteenth in the country by the Commission on Accreditation of Ambulance Services. The company has maintained accreditation for more than 20 consecutive years. National EMS has more than 200 employees and a fleet of 30 ambulances. The company responds to more than 42,000 calls and transports more than 33,000 patients annually in the five counties it serves.
The award-winning company participates in a number of charitable initiatives to give back to the communities in which they serve by working with various nonprofits doing demonstrations, trainings and a host of healthy living programs.