Testingfg of Ads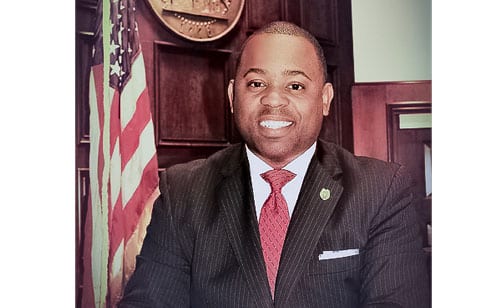 The Rockdale Board of Commissioners today confirmed Chairman Oz Nesbitt's selection of Corey K. Hambrick as Chief of Staff.
Hambrick, 33, will start in his new role on Jan. 16. Hambrick led Nesbitt's transition team overseeing the transfer of administrations when Nesbitt took office on Jan. 1.
" I want to express my sincere appreciation to Post 1 Commissioner, Attorney Sherri Washington, and Post 2 Commissioner, Dr. Doreen Williams, for their continued support of ournew direction, specifically selection of our Chief of Staff, Corey Hambrick," said Nesbitt. "There is a spirit of cohesiveness in the air and it smells, looks and feels so good."
Nesbitt said Hambrick's strong communication and organizational skills with making him a good fit to assist him in moving Rockdale County forward.
As Chief of Staff, Hambrick will mainly serve as the liaison among the Board of Commissioners, assist the Chairman with the County's daily administrative functions, supervise department-level managers, represent the BOC in various relationships such as government organizations and task forces, oversee executive-level policy analysis and development, and conduct critical research and present findings that are of interest to the BOC.
Hambrick said he plans to maintain his certification as a Peace Officer and serve the Police Department in a reserve capacity.
"Rockdale County is a great community to reside, work and simply enjoy life in, so I'm honored to be selected to not only serve the citizens, but also the employees in such a substantial manner," Hambrick said. "While I'll definitely miss my fellow officers at Conyers PD, I look forward to working with the City from a different perspective of service.
Hambrick is the lead pastor of The Life Church Christian Center in Conyers and also serves as CEO and founder of Thinking Under Fire (TUF), an organization specializing in bridging the gap between local law enforcement and the communities they serve.
Hambrick earned a Bachelors of Political Science degree from Alabama A & M University and Masters in Public Administration from Strayer University.
Hambrick has served the City of Conyers for eight years. He started his career in public service as a police officer and rose up the ranks to several positions within the department including Field Training Officer, Corporal for Uniform Patrol, City Marshall, and Sergeant for both the Uniform Patrol and Criminal Investigation divisions. During his tenure with the City, Hambrick completed and received the Leadership in Police Organizations certification by the International Association of Chiefs of Police, and the Managerial Certification from the Georgia Peace Officers Standards and Training Council.