Testingfg of Ads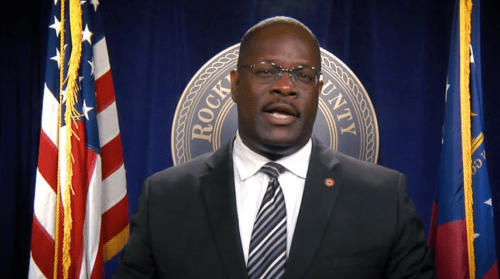 Today, Oz Nesbitt, Sr., chairman of the Rockdale Board of Commissioners, offered condolences to the families of Jamie Henry and Shali Tilson, whose deaths sparked a nearly two-hour protest at the Rockdale County Jail this past Saturday.
Nesbitt's remarks came 92 days after the death of Tilson, 22, and nearly three weeks after Henry, a 40-year-old mother who died while in the custody of the Rockdale jail.
In offering his condolences, Nesbitt explained in a video released at 9:30 a.m. today (June 12) why he had not said anything publicly about the deaths until now.
"Recently, people have been asking me to address certain events at the jail.
…As you may know, the jail is under the complete jurisdiction and authority of the Sheriff's Office. I believe in due process and I expect the investigations will provide a better understanding of what happened and how to improve as may be needed," said Nesbitt.
Nesbitt ended the video by saying to the families:
"We will continue to pray for you, the United States of America, the great state of Georgia and Rockdale County."
Protestors condemned Nesbitt, as the head of Rockdale's government, along with Sheriff Eric Levett, calling for their resignations this past Saturday.
At today's Board of Commissioners' meeting, Rockdale resident Elliott Smith called for the sheriff's dismissal, saying the two recent deaths at the jail has destroyed the community's confidence in law enforcement.
"Eric Levett has to go," Smith said during public comments.
Nesbitt urged Smith to reach out to the sheriff and schedule a meeting with him.
Tilson died of dehydration during a nine-day stay at the Rockdale County jail after being arrested on misdemeanor charges. The GBI, which launched an investigation following his death, found that Tilson died on March 12 as a result of "pulmonary thrombi due to dehydration." The autopsy also found that Tilson had "subdural hemorrhaging" and he was alone in his cell when he died.
Attorney Mawuli Davis, who is representing the families of Tilson and Henry, said the deaths are a result of "criminal neglect" on the part of jailers.
"He (Tilson) was severely dehydrated. This is a horrible torturous way to die. They (jail attendants) let him deteriorate to the point of death," Davis said.
Davis said Henry, who had a drug problem, died on May 26 after crying out and begging for help to no avail.
Henry was found unresponsive in her cell after being locked up for about 12 hours, according to Sheriff's spokesperson Yolande Lovingood-Moore.
The Douglasville woman is survived by  a 5-year-old son, who attended Saturday's protest with family members.
Rockdale Chairman Oz Nesbitt's message can be viewed here: https://vimeo.com/274688547
To view the protest held for Shali Tilson and Jamie Henry, click here.