Testingfg of Ads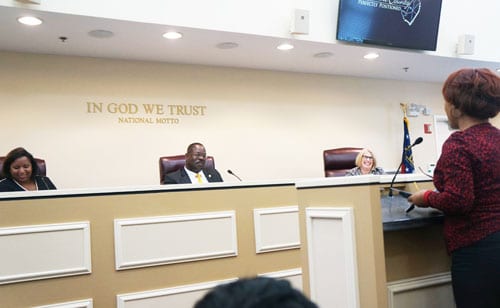 By Mackenzie N. Morgan
Rockdale County employees will earn a little more than expected this year, after the Board of Commissioners (BOC) approved a slight adjustment during its first meeting of 2017. In a 2-1 vote on Jan. 3, the board approved a 5 percent pay raise, rather than the 4.5 percent previously approved.
The raise was pushed through after newly-elected Chairman Oz Nesbitt, who made the proposal while conducting his very first meeting, won support from Post 1 Commissioner Sherri Washington, who also is newly elected. Nesbitt had tried to get the raise last year when he was Post 1 commissioner but was unsuccessful.
"I can't think of a better way to start this year off, I can't think of a better way to add some kind of increase to that budget other than supporting our employees," said Nesbitt.
Commissioner Washington said she voted for the raise because she believes it is important to foster an environment where county employees feel valued.
"I feel it's imperative that our employees have a wage that is both liveable and comparable to those similarly employed in other counties. We must stop the perception that Rockdale County is where you come to get training and then use the skills that you obtain while working here to obtain employment that pays more somewhere else," Washington said.
Post 2 Commissioner Doreen Williams voted against the increase, saying she was concerned about dipping into the county's fund balance (reserve fund).
"For the last four years, we've had to balance the budget assuming we must use the fund balance. The goal is to have expenditures covered by revenues—incoming money—rather than dipping into the fund balance," said Williams. "By law, you have to keep a certain amount in there—I believe $24 million and we've got $30 million."
The amendment will add  $173,036 to the county's general fund budget, increasing the total needed from the fund budget from %5.5 million to $5.7 million. The total operating budget now comes to $65,131,099.
First evening BOC Work Session for the public
In other business, the BOC approved holding an evening work session to make it easier for residents to attend and learn about the issues and other matters that come before the board. Chairman Nesbitt wants to make meetings more accessible to the public and is holding the first evening work session on Feb. 21, 7 p.m., at the county's Assembly Hall, 901 Main St., Conyers.
The work sessions are generally held on the first and third Tuesday each month. The voting board meetings are generally held second and fourth Tuesday of every month.