Testingfg of Ads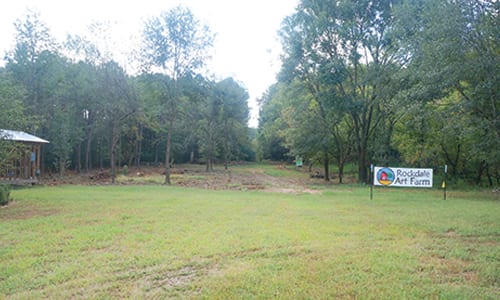 By Valerie J. Morgan
The Rockdale County Board of Commissioners is scheduled to vote on Oct. 9 on a special use permit for a "Recreational and Vacation Camp" called the Rockdale Art Farm. The proposed art farm, located on 25 acres at 4420 Flat Bridge Road in south Rockdale, has been the center of debate for months, drawing opposition from those who say it will bring noise, traffic and dramatically change the character of the quiet area.
Proponents, however, are excited about the possibilities of having a venue that promotes arts and education modeled after Serenbe, a community connected to nature focused on wellbeing that is located on the edge of Atlanta. 
Joe Eifrid, founder and CEO, has said the nonprofit Art Farm, which would be on the site of a former dairy farm that he owns, would include six cabins that could be rented out to artists to stay for up to seven days. He said woodworking, blacksmithing, pottery, 3D printing and other art classes would be offered to the public. The tract on Flat Bridge Road is near the intersection of Union Church Road. 
At the Sept. 25 BOC meeting, four people spoke in favor of the proposal and three against during a public hearing.  
Morgan Taft, a business owner and Rockdale resident, said he is excited to support the project and urged the board to do the same. He said he was baffled as to why anyone would oppose the project.
"I have a 5-year-old daughter. It will complement Panola Mountain very well, South Rockdale Park. I think it would be a positive asset for the community. We'll utilize it," said Taft.
One man who said he was initially opposed to the Art Farm told the board he now supports it. He said he was given misinformation about the project, but after personally speaking with Eifrid he "fully expects him to preserve the way of life in that part of the county and bring something special to Rockdale."  
But Don Meyer, who has hired a lawyer to fight the proposal, said the project is going to change the way of life for residents in the area. 
"It's a pig with a lot of lipstick on it. It's a giant commercial venture making a lot of money as a nonprofit," said Meyer.  
The board was supposed to vote on the special land use in April but delayed the vote pending legal review of an attorney's letter regarding possible litigation over the permit.
The area is zoned Agricultural-Residential (AR) and Eifert is seeking a special use permit in that zoning.
The county's planning staff has developed proposed conditions that could be attached to the permit including restricting times of activities to no later than 8 p.m., issuance of a special  land use permit for any event that would draw a large crowd and lodging facilities that would be utilized by artists or those enrolled in an  ongoing art program.