Testingfg of Ads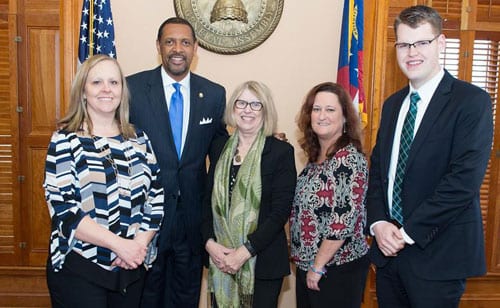 Rockdale Commissioner Doreen Williams was among several elected officials and mental health advocates who observed Mental Health Day at the Georgia Capitol on Jan. 31.
"We heard some very compelling, inspiring stories of those who suffer from serious mental illness and substance abuse addictions but are now, because of services received, in recovery, furthering their education, working, paying taxes, and and finding great satisfaction in their personal lives," said Williams.
Williams and members of the View Point Health Board of Directors attended the meeting where they heard from Judy Fitzgerald, Commissioner of the Department of Behavioral Health and Developmental Disabilities, who spoke to a standing room-only crowd at the Georgia Railroad Freight Depot.
Williams said she met with State Representatives Vernon Jones and Doreen Carter regarding HB 77, which provides for mental health training materials to be provided to all elementary and secondary schools.