Testingfg of Ads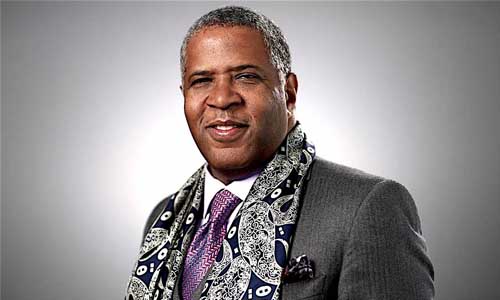 Robert F. Smith, founder, chairman & CEO of Vista Equity Partners, and his family have donated $34 million, as promised, to pay off loans that the Class of 2019 accumulated to fund their Morehouse education.
Smith shocked Morehouse and the nation when he announced the history-making gift in May during graduation exercises, where he was the keynote speaker. College officials said in a news release on Sept. 20 that the billionaire philanthropist had indeed made good on his promise to help this year's graduates of the all-male institution.
"This liberation gift from Robert Smith—the first of its kind to be announced at a graduation in higher education—will be life-changing for our new Morehouse Men and their families," said David A. Thomas, president of Morehouse College. "It is our hope that our graduates will use their newfound financial freedom to pursue their career goals, to lead and serve the community, and to remember the spirit of the gift given to them by paying it forward to support the education of future classes of Morehouse Men."
The college's Board of Trustees has established the Morehouse Student Success Programfor grants, including Smith's gift, to curb student loan debt and help graduates to prosper faster. More than 400 students in the Class of 2019 will receive Morehouse's inaugural gift under the Student Success Program.
America's student loan debt—now more than $1.5 trillion, according to the U.S. Department of Education (more than the nation's $1.3 trillion in auto loan debt)—can exacerbate the wealth gap that exists between black families facing generational poverty and other households. Black households nationally have the lowest median net worth, lagging behind Asian, white, and Latin Americans respectively, according to the U.S. Census. Economic status can impact loan repayments.
Following Morehouse's inaugural gift under the Student Success Program, Morehouse will study the impact that alumni experience in their lives and careers when their student loan balances are paid in full or reduced to manageable levels. The first subjects of the research study will be some of the inaugural gift recipients, who will be encouraged to participate in the study. With additional investments, the Student Success Program will also provide current and future Morehouse students with scholarships and access to financial literacy programs that detail the impact of debt on family budgets. Parents and guardians will also be included in the educational outreach.
At Morehouse, the student loan debt threshold at graduation is between $35,000 and $40,000, which is higher than the average for HBCUs. According to UNCF research, HBCU graduates borrow nearly twice as much—$26,266 on average—than non-HBCU students. And one in four HBCU