Testingfg of Ads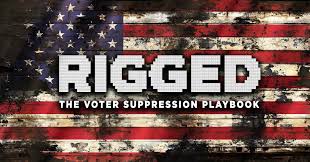 Antioch A.M.E Church, 765 S. Hairston Road, Stone Mountain, will host a free dinner and premiere of the documentary film, "Rigged: The Voter Suppression Playbook," on Friday, June 14. Dinner will begin at 6 p.m. and the film will start at 7 p.m.
The documentary, narrated by Emmy and Tony Award winning actor Jeffery Wright ("Shaft"), discusses voter suppression in the United States including removing voter rolls and violation of voter ID laws, creating new barriers to voter registration and more.
There also will be a panel discussion featuring community leaders following the film.