Testingfg of Ads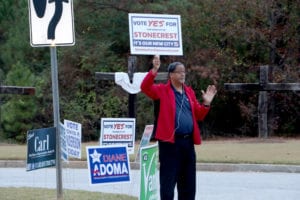 The new city of Stonecrest in east DeKalb County will now go on maps everywhere. Residents in the Stonecrest footprint passed the referendum with 59.42 percent of the vote in a special election, which was held on Nov. 8 during the General Election.
The city of 50,000 residents will become the largest municipality in DeKalb and the ninth city to join metro Atlanta's growing cityhood movement.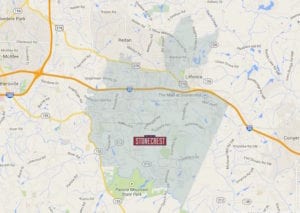 Stonecrest initially will offer its residents three government services: code enforcement, parks and recreation, and planning and zoning.
Jason Lary, who led the campaign to incorporate the city, said he was thrilled the referendum passed. He and other proponents touted self-governance and the ability to bring economic development to the area as key factors for creating the new city.
Lary said next steps for the new city include:
The governor's appointment of a Community Commission to oversee the transition. The commission will be comprised of local residents and business owners in the Stonecrest footprint. Interested residents may nominate themselves, however, those who are interested in seeking an elected office in the new city may not participate on the commission.
Office seekers will have a chance to present their case to the public from Nov. 9 to mid-March 2017.
An election will be held in March 2017 for the city's mayor and five-member council, Lary said. Each council seat will represent 10,000 residents. Elected officials will take control of the city on April 1 and the Commission will be dissolved.
Special Elections Results In DeKalb:
Stonecrest Incorporation Senate Bill 208, Act 328:
YES 59.42 percent
NO 40.58 percent
DeKalb County Homestead Exemption Act 264, HB 596:
YES 69.01 percent
NO 30.99 percent
CITY OF ATLANTA SPECIAL ELECTIONS
T-SPLOST Referendum                                                                  
YES 76.09 percent
NO 23.91 percent
MARTA Sales and Use Tax Referendum
YES 79.54 percent
NO 20.46 percent
CITY OF DECATUR SPECIAL ELECTIONS
City of Decatur Homestead Exemption senate Bill 339, Act No 382
YES 85.79 percent
NO 14.21 percent
City of Decatur Homestead Exemption Senate Bill 340, Act No. 383
YES 83.12 percent
NO 16.88 percent
City of Decatur Homestead Exemption Senate Bill 341, Act No. 384
YES 83.15 percent
NO 16.85 percent
City of Decatur Homestead Exemption Senate Bill 342, Act No. 385
YES 82.09 percent
NO 17.91 percent
City of Decatur Homestead Exemption Senate Bill 343, Act No. 386
YES 75.16 percent
NO 24.81 percent
CITY OF PINE LAKE SPECIAL ELECTION
City of Pine Lake Package Sales
YES 89.32 percent
NO 10.68 percent