Testingfg of Ads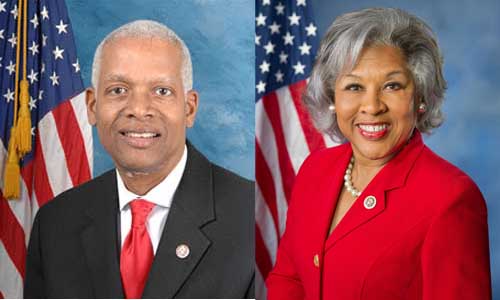 Congressman Hank Johnson and Congresswoman Joyce Beatty
WASHINGTON, D.C. – Congressman Hank Johnson (GA-04), chair of the Judiciary Subcommittee on Courts, Intellectual Property and the Internet, and Congresswoman Joyce Beatty (OH-03), chair of the Financial Services Subcommittee on Diversity and Inclusion, have introduced the House companion bill to the Senate's "Fair Access to Financial Services Act."
The bill would prohibit banks and other financial institutions from discriminating against consumers on the basis of race, color, religion, national origin, sex, gender identity, or sexual orientation. While the Civil Rights Act of 1964 outlawed discrimination in certain places of public accommodation, it does not cover banks and other financial institutions. This new legislation would ensure that all people receive equal treatment when trying to access services at financial institutions and hold them accountable when they engage in discriminatory acts.
The Senate version – S. 4801 – was introduced Oct. 21 by U.S. Sen. Sherrod Brown (D-OH) – ranking member of the U.S. Senate Committee on Banking, Housing, and Urban Affairs, and Senators Tina Smith (D-MN), Cory Booker (D-NJ), Bob Menendez (D-NJ), Elizabeth Warren (D-MA), and Chris Van Hollen (D-MD).
"Banking While Black isn't a slogan, it's real," said Rep. Johnson. "Just ask Clarice Middleton of Atlanta, who recently tried to cash a $200 check, only to be accused of fraud by three branch employees, who then called the cops. Her experience is just a microcosm of a larger, systemic problem of racial profiling and unequal treatment Black and Brown people face when dealing with banks and other financial institutions."
"It is truly unconscionable that in 2020—some six decades after the passage of the Civil Rights Act—financial institutions can still discriminate against Americans because of the color of their skin," said Rep. Beatty. "The Fair Access to Financial Services Act will right this wrong, making sure that no customer is denied access to vital banking services as a result of their race or ethnicity. I am proud to team up with Congressman Hank Johnson to introduce this historic piece of legislation and call on all my congressional colleagues to help put a stop to discriminatory banking practices once and for all."
The bill is a response to the numerous incidents of discrimination experienced by Black and Brown people when trying to access the financial system. It has been endorsed by several civil rights organizations including  Lawyers' Committee on Civil Rights Under Law, The Leadership Conference on Civil Rights and Human Rights, The National Urban League, National Association for the Advancement of Colored People (NAACP), UnidosUS, Americans for Financial Reform, Public Citizen, Local Initiatives Support Corporation, National Association of Real Estate Brokers, League of United Latin American Citizens, National Community Reinvestment Coalition, National Action Network, and the Center for Responsible Lending.
More information about the bill can be found here, and the bill text can be found here.