Testingfg of Ads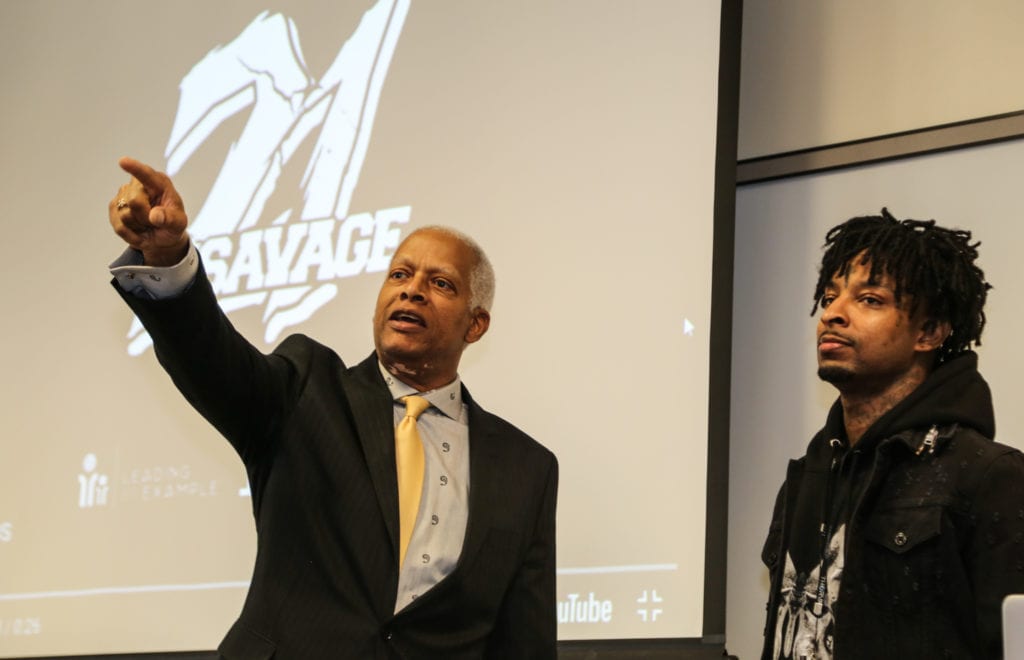 On March 25, Congressman Hank Johnson (GA-04) and Grammy nominated hip hop artist "21 Savage" teamed up to educate students on the importance of financial literacy and following their dreams.
Savage and Congressman Johnson made two stops in Georgia's Fourth District to connect with more than 100 students and introduce them to the rapper's financial literacy programs.
"Learning the invaluable lessons of financial literacy at an early age is critical to helping our young people grow and thrive as adults, and close the wealth gap with their peers," said Congressman Johnson. "Last year, I had the privilege of participating in one of 21 Savage's philanthropic enterprises. His events draw thousands of young people eager to hear his message. He's very beloved by the people of Atlanta and the people of our community. 21 Savage (Shéyaa Bin Abraham) is a young man who has found success, but he never forgot the community where he grew up."
First the two men visited Camp Jewell House Academy, a stem school accredited with excellence by the Georgia Accrediting Commission. While at the Decatur school, Camp Jewell students in several different grades discussed the value of staying in school and were encouraged to stay away from guns and gang violence. Third and fourth graders at the academy got a private lesson from Savage on financial literacy and the students shared with Congressman Johnson what they want to be when they grow up.
Congressman Johnson and Savage concluded their visit at Camp Jewell by joining members of Savage's management team and academy administration to hold an assembly for Camp Jewell's high school students. At the assembly, guest speakers shared insight on financial literacy and brought awareness to career opportunities in the music industry, including brand management, entertainment law, talent management, public relations and business management.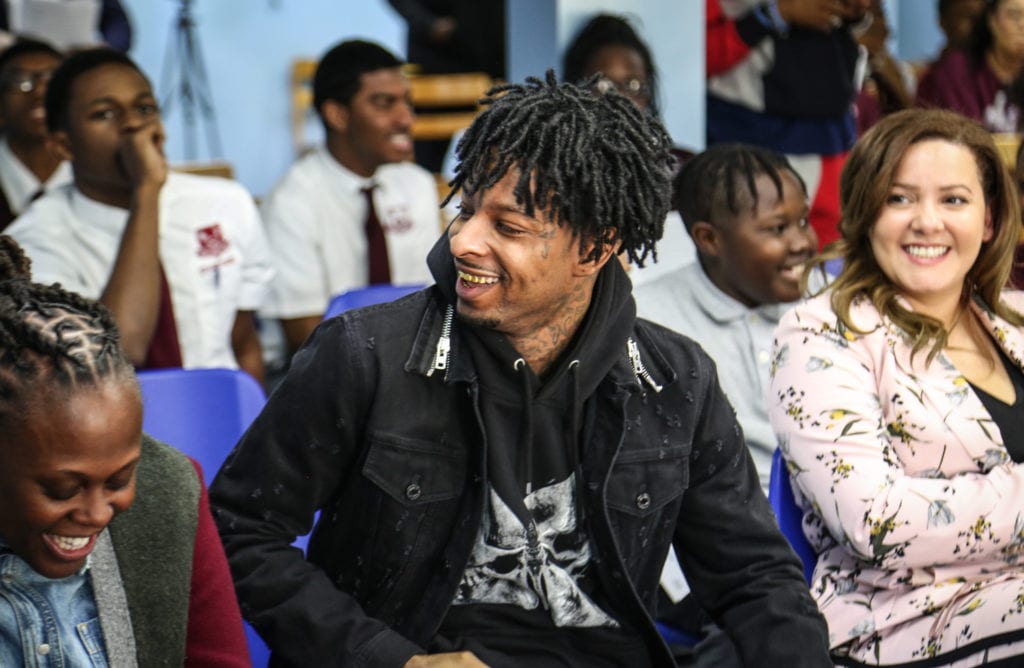 "For most kids, the focus is on earning money. And while that is important, to really get ahead you need to know how to manage your money, not just make it," said 21 Savage. "As I have gotten smarter about financial management, I realize how important it is to control your money rather than be controlled by it. I want to help kids with a background similar to mine to get smart about their money."
Later that day, Congressman Johnson and Savage met up with 40 college students in Decatur to host the rapper's "Bank Account" financial literacy workshop in partnership with non-profits Get Schooled and Juma, who also hosts a "21st Century Banking Workshop" with the rapper as well. The two men discussed with young adults the importance of financial literacy and 21 Savage committed $100 to each individual who attended the event for the purpose of opening a bank account, while those not in attendance will receive a digital curriculum in form of a badge.
21 Savage's Bank Account Campaign and Leading by Example Foundation launched in March 2018. The second phase of the financial literacy campaign launched in February 2019 to teach youth money managing basics. Savage also promised 150 local Atlanta students jobs by June 2019 in sports and recreation facilities. Young people across the country are also encouraged to complete Savage's Money Making Mentor Badge. More than 27,000 young people from 40 states have accessed the badge thus far.