Testingfg of Ads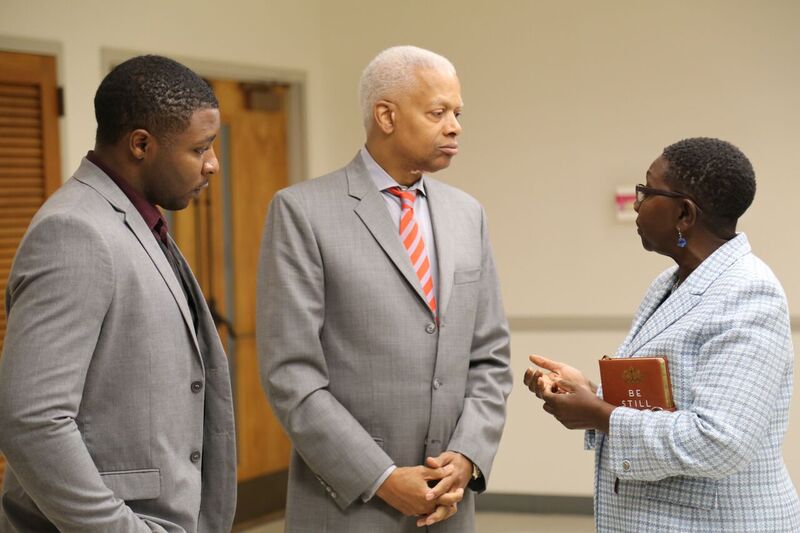 Congressman Hank Johnson (GA-04) concluded his small business roundtable series on Aug. 9 at the Walton EMC Conference Center in Snellville.
The session was the third installment of the Advancement of the Small Business Community Initiative, which launched in June with DeKalb County small-business owners at Georgia Piedmont Technical College in Clarkston, and continued in July with participation from the Rockdale County small business community.
"The importance of the small-business community in today's economy is indisputable," Johnson said. "Small businesses are a vital part of today's economy and account for half of the private workforce's employment. The purpose of this initiative is to strengthen our small businesses by increasing awareness and support through face-to-face meetings with the experts that can help us do just that."
Recognizing the importance of opening up the door for small businesses to gain access to federal and state resources, the third roundtable welcomed State Rep. Dar'Shun Kendrick, Sharon Macaluso of the University of Georgia's Small Business Development Center and Maria Peck from Access to Capital for Entrepreneurs.
At the event, small business owners had the opportunity to network and talk one-on-one with Johnson, Kendrick, Macaluso, and Peck about their thoughts and concerns and issues.
"Today, we are here to open dialog between small business leaders, and the representatives who serve them on both the federal and state level," said Johnson. "The purpose of this roundtable is to provide our small businesses with an opportunity to voice their concerns in regard to the political environment surrounding the small business community."
The initiative will culminate in September with a districtwide "Think Tank." This event will provide a forum for small businesses in the Fourth Congressional District to benefit from federal resources. It will feature panel discussions and one-on-one sessions for small businesses. The U.S. Department of Veteran Affairs, the Georgia Department of Transportation (GDOT), the Georgia Department of Agriculture, the Georgia Department of Economic Development, the Small Business Administration (SBA), and the U.S. Department of Labor are some of the organizations that will be a part of the September initiative.
Educators, community and economic development specialists, local leaders and other members of our community will be on hand at the "Think Tank" event in September to show small businesses the proper way to gain access to capital and the proper channels for contracting with the federal government. The event will also provide an opportunity for business leaders to learn from each other's experiences.
The "Think Tank" event will be held on Sept. 18, 10 a.m. – 2 p.m., at Georgia Piedmont Technical College, 495 North Indian Creek Drive, Clarkston.