Testingfg of Ads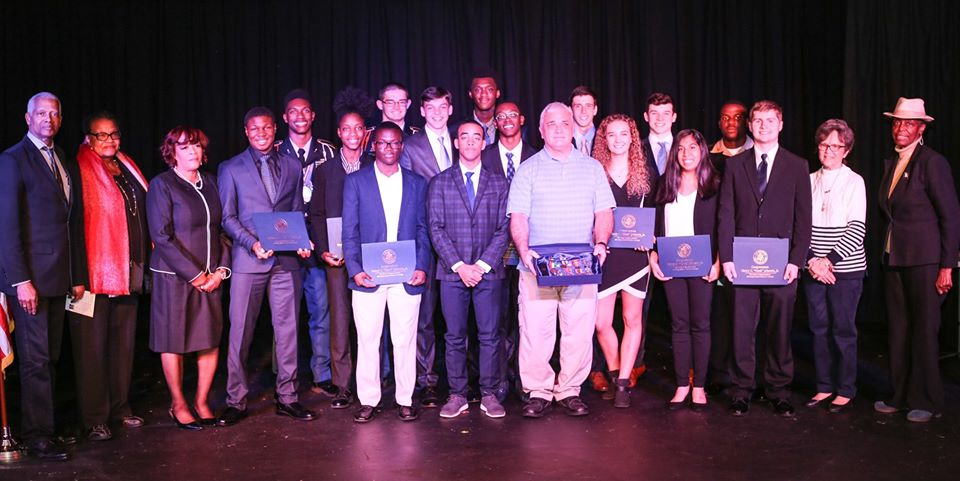 Congressman Hank Johnson's (GA-04) office has nominated 20 students to attend a U.S. Service Academy: Military Academy (West Point), Naval Academy, Air Force Academy, the Merchant Marine Academy and the ROTC Congressional Scholarship Initiative.
The Congressman also honored two Fourth District veterans who served their country and home and abroad during a reception on Feb. 18 at Stone Mountain's Art Station.
The Congressman's office will announce official service academy appointments between May and June.
Every year, members of Congress nominate students to attend the nation's military academies. Nominees who are accepted into the academies are awarded four-year scholarships that include tuition, books, room and board, medical and dental care. The average award per appointment is worth $425,000. ROTC students receive six-figure scholarship funds as well.
Since 2007, Congressman Johnson has helped award appointments worth more than $8 million.
"Please understand that you are the future leaders of the free world," Johnson said. "You will accomplish great feats and achieve many of your ambitions. Our nation is dependent upon you to do great deeds of service. I want to say congratulations for taking the first step upon the journey to fulfill your dreams. For without you and the service of others I would not be here to serve you today."
This year's reception included honoring the late Lt. Col. Rosalind Wallace – a former member of Rep. Johnson's nominating committee — with the Congressman's Patriot Award, and a medal presentation for Specialist Robert Tamer.
"Not only was she a great soldier, but she was one of our key judges who helped us nominate and get appointments for dozens of students in the Fourth District since 2007," said Congressman Johnson. "Service is duty, country, God and family. Lt. Col. Wallace encompassed all these qualities and more. Not only did she serve the nation in the Air Force, she served her community, her family, and was an inspiration to hundreds of young people."
Johnson told the students who are ready to embark on their service careers that they could look at the lives of Wallace and Tamer as great examples of two people who exemplify the very definition of duty and service.
"Another thread of our nation's service is Specialist Robert Tamer, the recipient of 10 medals including the Bronze Star," said Johnson. "I truly believe fate brought Mr. Tamer to my office to help him receive the accolades he so rightfully deserves."
 NOMINEES
| | | | |
| --- | --- | --- | --- |
| Student | Nominated to | School | Age |
| Spencer Barlow, | West Point/Navy | Decatur High | 17 |
| Spencer Barlow | West Point/Navy | Decatur High | 17 |
| Natalie Chavez | Air Force | Brookwood High | 18 |
| David Coppock | West Point/Navy | Home School | 18 |
| Israel Dixon | West Point/Air Force | Newton High | 18 |
| Charlie Ford III | Air Force/Merchant Marines | DSA | 17 |
| Allyja French | Navy/West Point | South Gwinnett | 18 |
| Brandon Gignilliat | Air Force/Navy | Rockdale Magnet | 18 |
| Corinne Hanson | Air Force/West Point | Eastside High | 17 |
| Andrew Hicks | Navy/ROTC | MLK Jr. High | 17 |
| Grant Holman | Air Force/West Point | Bethlehem Christian | 17 |
| Stuart James | West Point/Navy | Woodward Academy | 17 |
| Kijana Knights | Navy | Newton High | 18 |
| Daniel Lett | Air Force | Air Force Prep | 18 |
| Omari Lewis | West Point/ROTC | Rockdale Magnet | 17 |
| Desanna McKenney | ROTC/ Merchant Marines | MLK Jr. High | 17 |
| Alexander Mobley | West Point | Military Prep School | 18 |
| Nathaniel Poteat | West Point/Navy | South Gwinnett | 18 |
| Amirah Rogers | Merchant Marines/ROTC | Mountain View | 17 |
| Randy Terry II | Air Force/ROTC | Stephenson High | 17 |
| Trisha Warren | Navy | U.S. Navy Prep | 19 |