Testingfg of Ads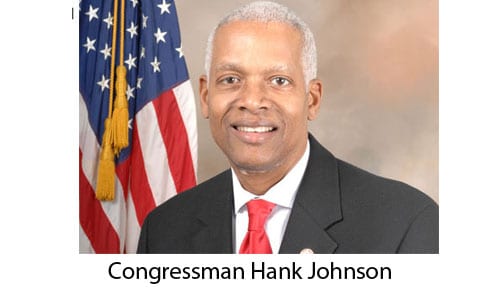 WASHINGTON, D.C. – Congressman Hank Johnson (GA-04) announced Feb. 23 the introduction of the Safe Recall Information Distributed Equitably Act (Safe RIDE Act), which would help improve passenger safety and the response rate to vehicle recall notices by ensuring vehicles used for ridesharing services get needed repairs when subject to a recall.
The bill is the House companion to Sen. Amy Klobuchar's (MN) legislation, which was also introduced today. Rep. Johnson is co-leading the Safe RIDE Act in the House along with Rep. Jan Schakowsky (IL-09) and Rep. Lisa Blunt Rochester (DE-at large).
"With the increasing popularity of ridesharing, it's imperative that we ensure those vehicles are among the safest on the road," said Rep. Johnson. "Addressing these recalls is critical to the safety of passengers who use these services for their commute to work, school, and doctor appointments. The Safe RIDE Act will provide a more comprehensive understanding of just how many rideshare vehicles have open safety recalls, and what can be done to address those deficiencies and make it safer for consumers."
"Rideshare vehicles – a vital source of mobility for those who lack access to more traditional means of transportation – must be defect free to remain a safe, reliable means of transportation," said Rep. Schakowsky. "In response to troubling evidence suggesting that many rideshare vehicles are operating with unrepaired defects, the Safe RIDE Act will study how we can ensure that rideshare vehicles with open recalls are repaired and make vehicle recall notices easier for consumers to understand. The first step towards addressing this issue is understanding how we can make rideshare vehicles safer for their passengers, drivers, and all road users. I thank my friend Congressman Johnson for introducing this important legislation, and I'm proud to be an original cosponsor."
"With automobile accidents remaining a leading cause of deaths and injury in the United States, ensuring all vehicles are as safe as possible must be a top priority," said Rep. Blunt Rochester. "Unfortunately, too many vehicles are on the road today with open safety recalls, many of which are used for ridesharing and taxi services. The Safe RIDE Act would help us understand why so many safety recalls remain unresolved so we can take action to fix them. All Americans deserve peace of mind while on the roads, no matter what vehicle they're traveling in. I am proud to join with my colleagues Reps. Johnson, Schakowsky and Sen. Amy Klobuchar in leading this important legislation."
The bill:
Directs the Government Accountability Office (GAO) to determine and report to Congress on the number of vehicles used for ridesharing and taxi services in each state that have open recalls. Identify the reasons owners do not have vehicles with open recalls repaired; and make recommendations to Congress on how to improve the rate of recall repairs
Directs NHTSA to conduct a study and report to Congress on ways to make recall notices more effective and easier for all consumers to understand
Does not appropriate any new funds
As a longstanding vehicle safety advocates in Congress, Reps. Johnson, Schakowsky and Blunt Rochester are working to ensure that vehicles used on rideshare applications, like Uber and Lyft, are optimally safe for their passengers. Consumer Reports recently reported that at least 1 in 6 vehicles in a sample of 94,000 used for ridesharing applications like Uber and Lyft had at least one open safety recall.
The bill has been endorsed by Consumer Reports, Consumers for Auto Reliability and Safety, Advocates for Highway and Auto Safety and Center for Auto Safety.